Diversification of the visual arts at the heart of brand communication
With the digital and the consecration of social networks, we have been witnessing a surge of visual content for several years. From Instagram feeds to website pages, via Snapchat, Facebook, Tik Tok…., photographs and videos are taking a predominant place in the communication of luxury brands.

In a society of the instantaneous, hyperconsumption and hypercommunication, in which the diffusion of excessive visuals is the primary food of commercial companies, each photograph quickly becomes obsolete after it is put online. As a result, they get lost in an ocean of similar content. In this context, the use of various forms of artistic creations injects originality, diversity and uniqueness to the interaction tools of luxury brands.
Whether by using ancestral techniques such as Indian ink with a brush and pen or by adapting to modern tools with illustration on a graphic tablet, the works created stand out from the crowd.
Between pencil, paint, felt-tip pen, collage, digital brushwork, motion design…. from static creations to cartoons, the contents open the door to a multitude of experiences and creative visual pleasures.
Artists and artistic work in its entirety are also honored. These collaborative exchanges give new importance to the time taken to create, to imaginative research, to the differentiation of creations and to openness to innovation.
Since the publication on L'Artketing: Van Gogh & Arpels (Célia Mastorchio-Fabbri, 2015), expectations regarding collaborative strategies between Art and Luxury have evolved. It is not only a question of relying on recognized Art by appropriating, for example, references to famous paintings for its own communication or launching exhibitions of international scope. It is not a question of collaborating with a few celebrities in the field and assimilating their name for the benefit of the company's image.
Nor is it a question of increasing the reputation of a young talent through a game of speculation, nor is it a question of acting as a patron to promote a particular person or a small privileged group. Vadim Grigorian (Luxus Plus, 2019) describes it well: "Companies (…) can learn a lot from art and (…) take advantage of the tremendous power of art's influence and its ability to transcend time. (…) Brands must go beyond the visual aspect of an artist's work and seek inspiration in the artist's attitudes, methodologies, work philosophy, creative organization and processes…. Specially developed corporate art initiatives are a much smarter and more cost-effective form of patronage than exhibition sponsorship or corporate collections. »
It is therefore a matter of opening its doors to various creative forms and to all the talents unknown to the general public on a regular basis to allow art to express itself in all its nuances, to put creativity back at the center of the stakes and to diversify both in the deployment of its identity and in the experience offered to clients. From this association emerges a purity and truth in the simple search for the artistic process.
This partnership with various people with their own worlds and techniques is increasingly visible. In a style that is both pop and poetic, the Bahar artist creates fresh and colorful animations and vectorized drawings for chocolate, publishing or wine, modernizing the graphic design of her expressive and shimmering feminine paw.
Having adapted her virtual aesthetics to paper cutting to represent clients at a Longchamp party, she demonstrates the ingenuity of artists, an undeniable added value in a society in constant demand for renewal. Louis Vuitton, Marc Jacob and Chanel also provide an authentic experience during events thanks to the illustrator Hossein Borojeni during "Live Painting".
Borojeni draws the portraits of guests in Indian ink or in a graphic version. Departing from the photographic process often used, he brings a new breath to the visual representation and immortalization of a moment. His talent is also visible on the digital sphere, for, among other things, putting Lancôme's La Vie est Belle advertising into images, sublimating jewelry pieces presented by Katerina Perez or imagining drawings for Van Cleef & Arpels.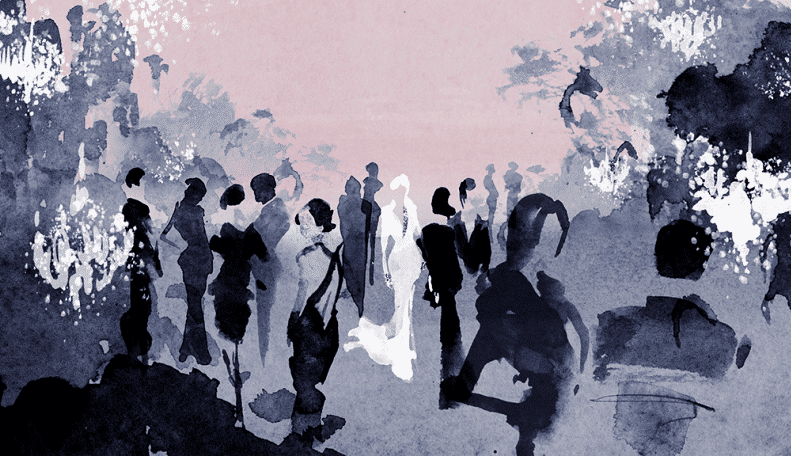 According to him, "the beauty of ink lies in its magic when the color spreads out on the paper, playing with transformations, partially freeing itself from the control of the drawer. "This natural, unretouched side brings warmth and humanity to the work. In the same way, the aspects that escape the illustrator's fingers make the slight defects the quality, beauty and soul of the drawing.
Nowadays, however, the Luxury Houses tend to control everything down to the slightest stroke of the pencil, going from back and forth, from chords in chaos and endless retouching for each gesture related to their communication. Thus, illustration, which had its golden age in the 1960s with René Gruau, has gradually faded away in favor of photography, which allows for more control, retouching and economy (ratio of quantity of content to creation time).
However, in the words of Katia Kashan (Luxus Plus, 2020), the purchasing behavior of today's consumers requires Luxury Goods to rethink its concept in order to meet the challenges of : The luxury industry must rethink its concept to respond to the challenges of: " the present moment and authentic, responsible and meaningful customer experiences. "
Under these conditions, wouldn't it be wise to reinject in a real and intrinsic way risk taking, spontaneous creativity, warmth and humanity, even imperfection, all sprinkled with a light game of chance? Isn't it these elements that have made the masterpieces and the fame of the great creators whose names they bear?
Featured photo : Watercolor by Hossein Borojeni for © Katerina Perez
Celia Mastorchio-Fabbri
[EN] CÉLIA MASTORCHIO-FABBRI IS AN ARTIST AND PROFESSIONAL OF DIGITAL COMMUNICATION. GRADUATED FROM AN ESC IN LUXURY BUSINESS, SHE WROTE A BOOK ON ARTKETING AND LEGITIMATE COLLABORATIONS BETWEEN ART AND LUXURY. HAVING ACQUIRED HER SKILLS WITH SEVERAL BRANDS, NOTABLY BETWEEN LONDON AND PARIS, THROUGH A DIGITAL AGENCY, SHE WAS ALSO RESPONSIBLE FOR THE MANAGEMENT OF A JEWELLERY WEBSITE. TODAY, SHE CREATES NARRATIVE AND VISUAL CONTENT (ILLUSTRATIONS, PHOTOGRAPHS, COLLAGES, ANIMATIONS...) TO ACCOMPANY THE HOUSES, PARTICULARLY JEWELLERS, IN THE DEPLOYMENT OF THEIR IDENTITY. ****** [FR] Célia Mastorchio-Fabbri est une artiste et professionnelle de la communication digitale. Diplômée d'une ESC en Luxury Business, elle a écrit un livre sur l'Artketing et les collaborations légitimes entre l'Art et le Luxe. Ayant acquis ses compétences auprès de plusieurs marques, notamment entre Londres et Paris, en passant par une agence digitale, elle fut également responsable du management d'un site joaillier. Aujourd'hui, elle crée des contenus narratifs et visuels (illustrations, photographies, collages, animations…) pour accompagner les Maisons, particulièrement joaillières, dans le déploiement de leur identité.