The most incredible boutiques in Paris
Despite (or thanks to?) the crisis of the covid, fashion and luxury stores are shining like never before in Paris. When they were forced to close or when tourists were not coming, they often took advantage of the situation to get a makeover. And to integrate these new trends that make them more attractive than ever.
The absolute necessity to be part of sustainable development and to connect with nature, which has been so missed by urbanites, has not escaped them. For architect Chafik Gasmi, a specialist in luxury, it is even a prerequisite. The famous concept store L'Exception recently moved into the Caserne, the new Parisian incubator dedicated to green fashion. It presents the most exemplary products of the designers it distributes. The new Lacoste flagship on the Champs Elysées has a space dedicated to sustainable development, and it's almost as if you're walking through a forest in Officine Générale's latest boutique on Rue du Dragon…While Dior's renovated temple at 30 Avenue Montaigne now offers three gardens, including a winter garden, for asphyxiated urbanites. 
Vintage and second hand
Going hand in hand with sustainable development, furniture and/or a vintage offer are also forging a growing place for themselves in points of sale. Like at Officine Générale, where you can buy second-hand pieces. Or in the first boutique of the shoe manufacturer Michel Vivien, where the furniture was found by the collector Gilbert Kann, in a setting designed by the interior designer Sophie Dries. Opened a year ago on rue Saint-Honoré, the store won the 2021 Paris Shop & Design prize awarded by the Paris Chamber of Commerce.
For Amandine Dubessay, head of the Creation Fashion Design sector and General Delegate of Paris Capitale de la Création at the Paris Chamber of Commerce and Industry, the growing importance of art and design in stores also goes "in the direction of sustainability". It allows to establish a "certain durability", whereas before "we changed the decor almost every time a new collection arrived". He cites the case of Isabel Marant, who has established in each of her stores, all different, "a real personality, a bias", by calling on the best designers, artists and craftsmen. The renovated temples of luxury (Chanel's flagship at 18 Place Vendôme, or Dior's 30 Avenue Montaigne), both reinvented by Peter Marino, also give an exceptional place to artists and designers.
Store experience
This personalization through art reinforces the store experience. Faced with the rise of e.commerce, which has increased its hold on the store, physical stores must be places of destination. Where you can tell the story or feel the soul of the designer, as in the flagships of Dior and Chanel. The places are also hybrid. You can have breakfast, tea or lunch at Dior. But also browse through his gallery-museum or sleep in a suite. The 18, place Vendôme Chanel can be visited (almost) like a castle, where one can enjoy the sumptuous decoration and exceptional works of art, but also discover or rediscover the models, old or new, of the House. In the historic Lancel flagship store, located on the prestigious Place de l'Opéra, private master classes can be organized around a heritage that is more than a century old.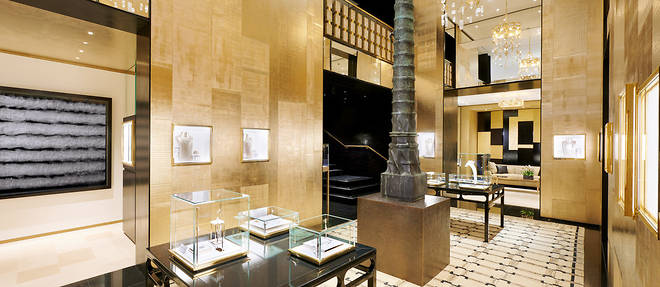 Finally, what would Paris be without its department stores? Reopened in 2021, after 16 years of renovation, the Samaritaine is the symbol of the resistance of this model, repositioned on a luxury offer. Its rich Art Nouveau and Art Deco architecture and decoration has been wonderfully restored by the LVMH group. All the while combining it with a contemporary glass façade on the Rue de Rivoli side. How to better summarize this capacity that Paris has to welcome all styles as long as they are declined with talent ?
Read also > Filling pieces unveils sneakers inspired by IWC Timepieces
Featured photo : © La samaritaine
Sophie Michentef
Après plus 20 ans au Journal du Textile, dont elle a notamment assuré la rédaction en chef adjointe, diplômée d'un Master en marketing de luxe de l'ISML, Sophie Bouhier de l'Ecluse est une spécialiste de la filière mode, textile et luxe.