Engaged and poetic, look back on the work of the artist Miss Tic, disappeared this Sunday

Walking the streets of Paris, we often find ourselves in front of these women with a rebellious look and a poetic and political phrase. These women, the work of the artist Miss Tic, deliver a committed message. Look back on its path.
Miss Tic died on Sunday, May 22, at the age of 66 years. Radhia Novat, her real name, was born of a Tunisian immigrant father and a Norman mother, and began to spread her works in 1985 in the streets of the Butte-Montmartre, where she grew up, the Marais, Montorgueil and the Butte-aux-Cailles.
In the 1970s, she discovered street theater and then, in the early 1980s, spent time in the United States where graffiti, a branch of hip-hop culture, was born. Back in Paris, she had the idea of intervening in the public space when she saw the paintings of Fine Arts students posted in the street. Being part of a nascent artistic movement, she chose the stencil technique to quickly multiply her interventions and the visibility of her works. Nourished by poetry, she found her style by writing poems to which she added portraits of women, first self-portraits and then figures inspired by magazines, advertising or fashion.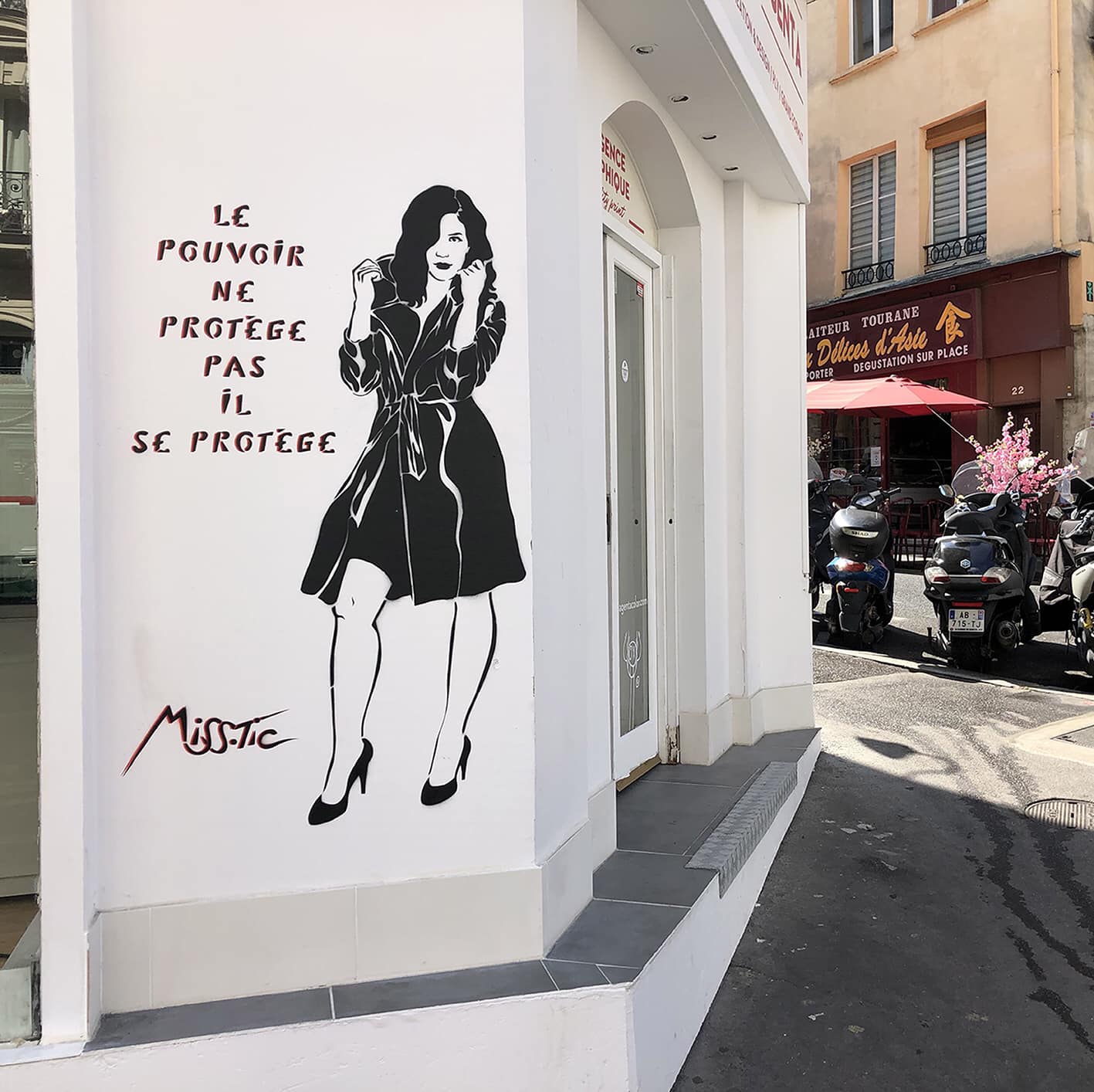 The pseudonym Miss. Tic comes from the character of the same name, the witch of the "Scrooge Gang" created by Carl Barks for Disney. After many years of trouble with the law, tagging or stenciling being considered as a deterioration of property, she finally attracted the attention of major brands in the 2000s, especially in the fashion industry (Kenzo, Louis Vuitton).
Her works are also spotted by art galleries, including the Galerie du Jour, owned by fashion designer Agnès B. one of the first to exhibit her work. "Neither completely belonging to the history of street art, nor completely to that of graffiti", for the specialist of street art and curator of exhibition at the Palais de Tokyo, Hugo Vitrani, Miss. Tic is apart. "She represents a poetic vein of street art, with her word games put into drawings," he continues.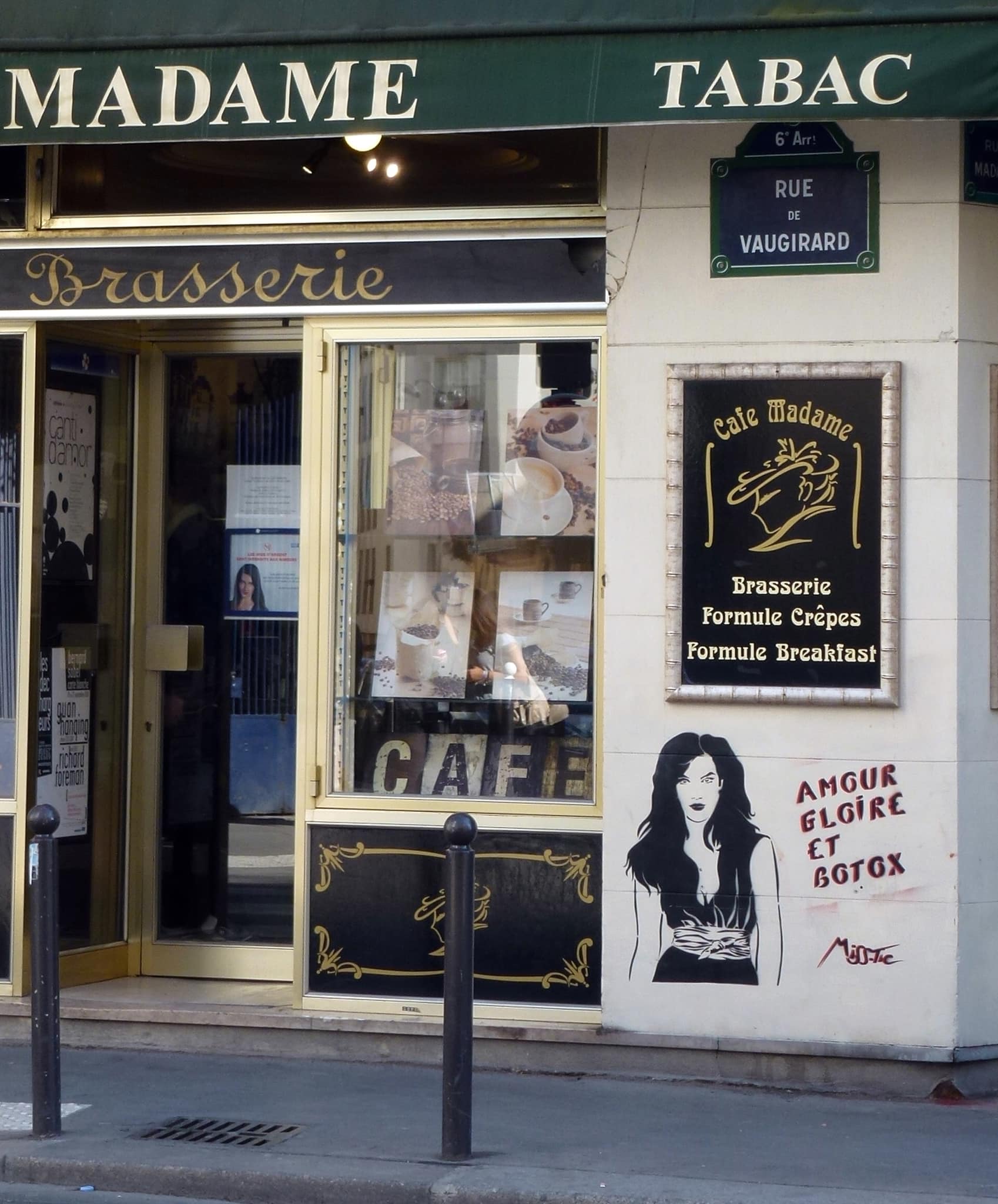 "I came from street theater, I liked this idea of art in the street," explained in 2011 to AFP the visual artist. "I said to myself: first I will write poems. Then: we need images with the poems. I started with self-portraits, then I continued to other women," added then the one who had the art of words, such as this quote: "I put on the art wall to bombard words hearts."
On his social networks, the announcement of his death is accompanied by a photo in his studio. "I had a lot of respect for his career," said on Twitter, Christian Guémy, aka C215, another figure of French street art, saluting "one of the founders of stencil art." "Her stencils became iconic, resolutely feminist, will continue to poetize our streets for a long time," reacted on Twitter the new French Minister of Culture, Rima Abdul Malak.
Read also > APPOINTMENT WITH THE FAMOUS GALLERY OWNER SYLVANA LORENZ : THE HEIR TO PIERRE CARDIN'S MEMOIRS
Featured photo : © Le Parisien/ Miss Tic ADAGP 2022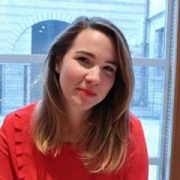 Hélène Cougot
Passionnée depuis son plus jeune âge par l'art et la mode, Hélène s'oriente vers une école de stylisme, l'Atelier Chardon-Savard à Paris, avec une option Communication. Afin d'ajouter des cordes à son arc, elle décide de compléter sa formation par un MBA en Management du Luxe et Marketing Expérientiel à l'Institut Supérieur de Gestion à Paris dont elle sort diplômée en 2020. Elle a notamment écrit des articles lifestyle et beauté pour le magazine Do it in Paris et se spécialise en rédaction d'articles concernant le luxe, l'art et la mode au sein du magazine Luxus Plus.********** [EN] Passionate about art and fashion from a young age, Hélène went to a fashion design school, Atelier Chardon-Savard in Paris, with a Communication option. In order to add more strings to her bow, she decided to complete her education with an MBA in Luxury Management and Experiential Marketing at the Institut Supérieur de Gestion in Paris from which she graduated in 2020. She has written lifestyle and beauty articles for Do it in Paris magazine and specializes in writing articles about luxury, art and fashion for Luxus Plus magazine.