FINE ARTS PARIS & LA BIENNALE : a tribute to the exceptional in Jewellry

From 9 to 13 November 2022, FINE ARTS PARIS & LA BIENNALE brought together 86 exhibitors at the Carrousel du Louvre. This unique artistic meeting in Paris combines the FINE ARTS Fair, which has existed for 5 years, and La BIENNALE, born in 1956. Three contemporary jewellers, Walid Akkad, Feng J and Frédérique Matteï exhibited their creations. And this among gallery owners, antique dealers and other art dealers specializing in jewellery, Bernard Bouisset, Orpheo Genève, Martin du Daffoy and Larengregor, who offered old and vintage pieces.
When shapes cut through the light
With his sculptural jewellery with soft shapes that seem to wind endlessly, Walid Akkad unveils an original bestiary of 21 red gold rings. Placed vertically on their ring with a flat back, the rings evoke an animal (crocodile, rabbit, owl, horse, hedgehog…). But once worn, they are no more than an abstraction. "My rings have a double reading," says Walid Akkad. The work on the metal – a semi-bright sandblasting which is his own and which he carries out with "DIY" tools – is expressed in all his jewellery. The sensual forms are unleashed to infinity in this bestiary of the plastic jeweller as in his other collections. The Volutes creations are a continuous line of gold drawn as if the hand had not lifted the pencil. Walid Akkad also likes to throw a little chaos into this harmony. Thus, on the Spire necklace, the links all have the same shape but they are linked in such a way as to create an asymmetrical effect. As for the Eight ring, set with an extraordinary blue-green tourmaline, it forms the figure whose line never ends.  The Eight ring, set with an extraordinary garnet, forms the number whose line never ends. Endless fluidity.
Jewellery from the ends of the earth
Frédérique Matteï has been travelling the world for years, collecting here and there all sorts of ethnic elements, gilded silver, gilded bronze or glass beads, rock crystal pendants, engraved or sculpted stones, wax balls covered with gold leaf, etc. From this treasure chest, she draws to build her pieces. "The elements of my jewellery come from all countries and all periods. I mix them up and it seems to me that they make sense at that moment. As on this necklace where Thai carnelian panthers dialogue with pearls, either ancient Rajastan silver gilt or more recent ones. On this other necklace, Bohemian blown glass rings from the 1950s are mounted with Tibetan beads in gilt bronze and Himalayan rock crystal. "I have always wanted to create a link between cultures and my jewellery expresses this link.  That says it all for this designer, whose jewels, beyond the exotic, display a crazy originality in the heart of the show.
Poetry as a heritage
Frédérique Matteï would almost make the Chinese designer Feng J look like a classic… Despite this, the latter is a baffling example of Chinese jewellers with their obvious taste for poetry and unusual gems. Unlike the ultra-coloured gems of Wallace Chan, Anna Hu or Cindy Chao, Feng J chooses pastel tones, almost transparent, for its ethereal compositions. The gems seem to be suspended thanks to the floating setting she has imagined. An almost invisible gold wire surrounds the stone's roundel and holds it in place with tiny claws, giving an aquatic and light aspect to sublime butterflies, a Gengko flower brooch or a tiara. Chinese jewellery is often inspired by nature and fairy tales (such as that of Liang Shanbo and Zhu Yingtai, who experience an impossible and tragic love and are transformed into two butterflies). Feng J remains faithful to this.
The jewellery of the designer, who is only 36 years old, is already being snapped up at auction. After two exceptional pieces sold for $2.6 million and $1.7 million respectively at Philipps, her Fountain on Fire ring was recently sold for more than €1.6 million at Sotheby's HK.
The great signatures
Echoing these contemporary designers, many older pieces by Cartier, Boucheron, Van Cleef & Arpels, Mauboussin, Fred, Chaumet and David Webb were on display at Bernard Bouisset, Martin du Daffoy, Larengregor and Orpheo. While Bernard Bouisset confided that he had fallen in love with a diamond ring by Suzanne Belperron (certified by Olivier Baroin, the brand's expert) or a Fred bracelet with cabochons of chrysoprase and delicately pink coral, his space was full of treasures meticulously classified by period, from the art deco period, often unsigned – the jewels were not always signed, their unique style was their seal – to the 1970s. The atmosphere is different at Martin du Daffoy's, who wanted to highlight creations, signed or not, such as this astonishing 1940s tiara in platinum and diamonds, with very fine workmanship but of unknown origin, to which he has added festoons of cultured pearls. It sits alongside a delightful Van Cleef & Arpels 3-gold set, entirely hand-chased. "I was looking for tasteful, well-crafted pieces for collectors who like French elegance, when brands were not so important," he says. A breastplate catches the eye, made by the Lebanese jeweller Yessayan in the 1970s. Soft as a cloth thanks to hundreds of hours of workshop work, it represents a dove made of sapphires and diamonds taking flight. "This dove is an allegory of peace, which seemed to me to be an interesting choice at the time in which we live," adds Martin du Daffoy.
FINE ARTS & LA BIENNALE will have attracted 17,000 visitors in November 2022.  The next edition will take place from 21 to 26 November 2023 at the Grand Palais Ephémère in Paris. Constrained again this year by a limited surface area at the Carrousel, the Fair has nevertheless already earned its place among the major art fairs. It is expected to grow in strength when it returns to the renovated Grand Palais, which may allow it to open up more to the international market.
Read also > FINE ARTS PARIS AND THE BIENNALE: LOUIS DE BAYSER DECIPHERS THIS FIRST EDITION
Featured photo : © Feng J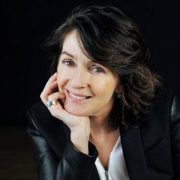 isabelle hossenlopp
[EN]ISABELLE HOSSENLOPP IS A JOURNALIST SPECIALISING IN JEWELLERY. A GRADUATE OF SCIENCES PO PARIS, SHE HAS MORE THAN 30 YEARS OF EXPERIENCE IN THE LUXURY GOODS INDUSTRY, INCLUDING 11 YEARS IN MARKETING AND EDITORIAL MANAGEMENT AT CHANEL. IN ADDITION TO HER WORK AS A JOURNALIST, SHE IS A CONSULTANT IN EDITORIAL CONTENT AND STORYTELLING AND WORKS FOR PRESTIGIOUS BRANDS AS WELL AS FOR YOUNG START-UPS LOOKING FOR A STORY OR FOREIGN BRANDS THINKING ABOUT INTERCULTURAL ADAPTATION. HIS COMMON THREAD? A STORYTELLING MUST AROUSE EMOTION AND IMAGINATION WHILE PROVIDING INFORMATION. IT MUST BE AUTHENTIC, CREDIBLE AND VERIFIABLE. THANKS TO HER JEWELLERY EXPERTISE, SHE IS REGULARLY CONSULTED FOR SECTOR STUDIES AND TEACHES BRAND CONTENT AND STORYTELLING IN MBA AND MASTER'S COURSES IN LUXURY GOODS IN PARIS, SHANGHAI AND GENEVA.***** [FR]Isabelle Hossenlopp est journaliste spécialisée en joaillerie. Diplômée de Sciences Po Paris, elle a plus de 30 ans d'expérience dans le luxe dont 11 années passées chez Chanel au marketing et en direction éditoriale. Au-delà de son travail de journaliste, elle est Conseil en contenu éditorial et storytelling et travaille aussi bien pour des Maisons prestigieuses que pour de jeunes start ups à la recherche d'une histoire ou des marques étrangères qui réfléchissent à une adaptation interculturelle. Son fil rouge ? Un storytelling doit susciter l'émotion, l'imagination tout en donnant de l'information. Il doit être authentique, crédible et vérifiable. Grâce à son expertise joaillière, elle est régulièrement consultée pour des études sectorielles et enseigne le contenu de marque et le storytelling en MBA et Master luxe à Paris, Shanghaï et Genève.