MEETING WITH AN ARTIST (EPISODE 2). Meeting with Anne-Caroline Ayot, make-up artist by day, illustrator by night

Graduated in Graphic Arts and trained in professional makeup at the Christian Chauveau Paris School, Anne-Caroline Ayot has been a makeup artist for more than 25 years on shootings and fashion or Haute Couture shows.
Thanks to her artistic talents, she got into illustration 4 years ago, mixing ink, watercolor, collage and photography to create unique, poetic and vibrant works. Today, she talks about her techniques and her vision of Art.
Why did you choose makeup and fashion?
It happened a bit by chance. After my studies, I worked in an advertising agency for a few years. And the whole days locked behind a computer screen made me feel a lack. I needed to create using my hands. Being attracted by fashion from a very young age, when my child was born, I decided to do studies in makeup. The school was a first step. The meetings did the rest. I quickly started assisting professional makeup artists. And now, it has been going on for 25 years.
On your Instagram annecaroline.arts we can see many of your illustrations. By the way, your saying is: "Make-up artist by day, illustrator by night". These two art forms seem equally important to you. However, drawing creation is not your first job. What drives you about this last one?
In the same way as for the make up, a few years ago I again felt this lack, like a little frustration. If I really like my work, the relationships that I forge, the perpetual change of fashion, the collective emulation of a team at the service of designers, hotographers, Grandes Maisons… I needed to develop a personal work. And to take time. When we are a makeup artist, our time is limited. It is very short: one hour, or even two at most. Here I have time. That of questioning myself, of doing researches, sketches, compositions of patterns and associations of colors to express the images that come to me and bring them to life on paper.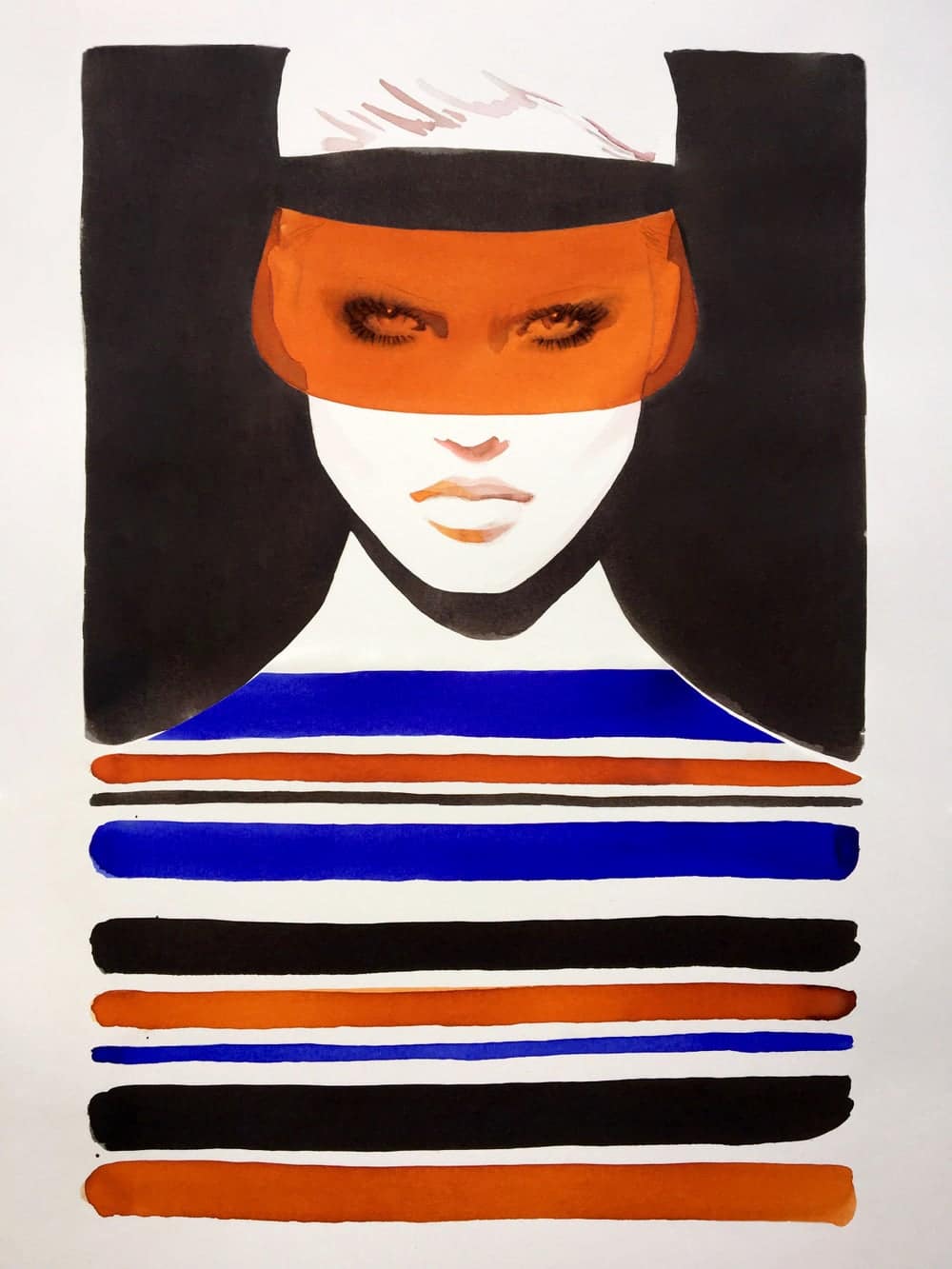 How did the illustration come to you?
I have always drawn, painted with acrylics, even made sculpture. But it was during an Haute Couture shoot for Vogue that I clicked. Illustrator Pepe Munoz was there to design the dresses. I don't know what attracted me when I saw his illustrations, but the day after the session I brought out my old brushes. I started tinkering with my creations and haven't stopped for 4 years.
Can you tell us about your artistic approach?
Everything is not completely defined or definitive. To me, it's like a trip. I can get ideas and get lost along the way. Switching to the unexpected is what appeals to me. I like to connect with the instinctive since I don't have any specifications, unlike for makeup. Not responding to an expectation, I can follow my intuition. It is this discovery of myself that drives me. But usually, after researching, I start sketching. Then I add elements. My creations are often a mixture of drawing, ink, watercolor and collage. But nothing is set in stone. I am constantly evolving in my artistic research. However, the design is essential. If it is bad, the result will not be there.
Next comes the ink. The very unpredictable part. Because I use the ink directly on water. It means that on parts of the paper I put water with a brush and then I apply a little of ink, which creates some effects. This part is very technical because water has its own laws. There are good surprises, sometimes bad ones. And when I want more details, I use the ink directly on paper, like for the eyes. I am very attentive to the look.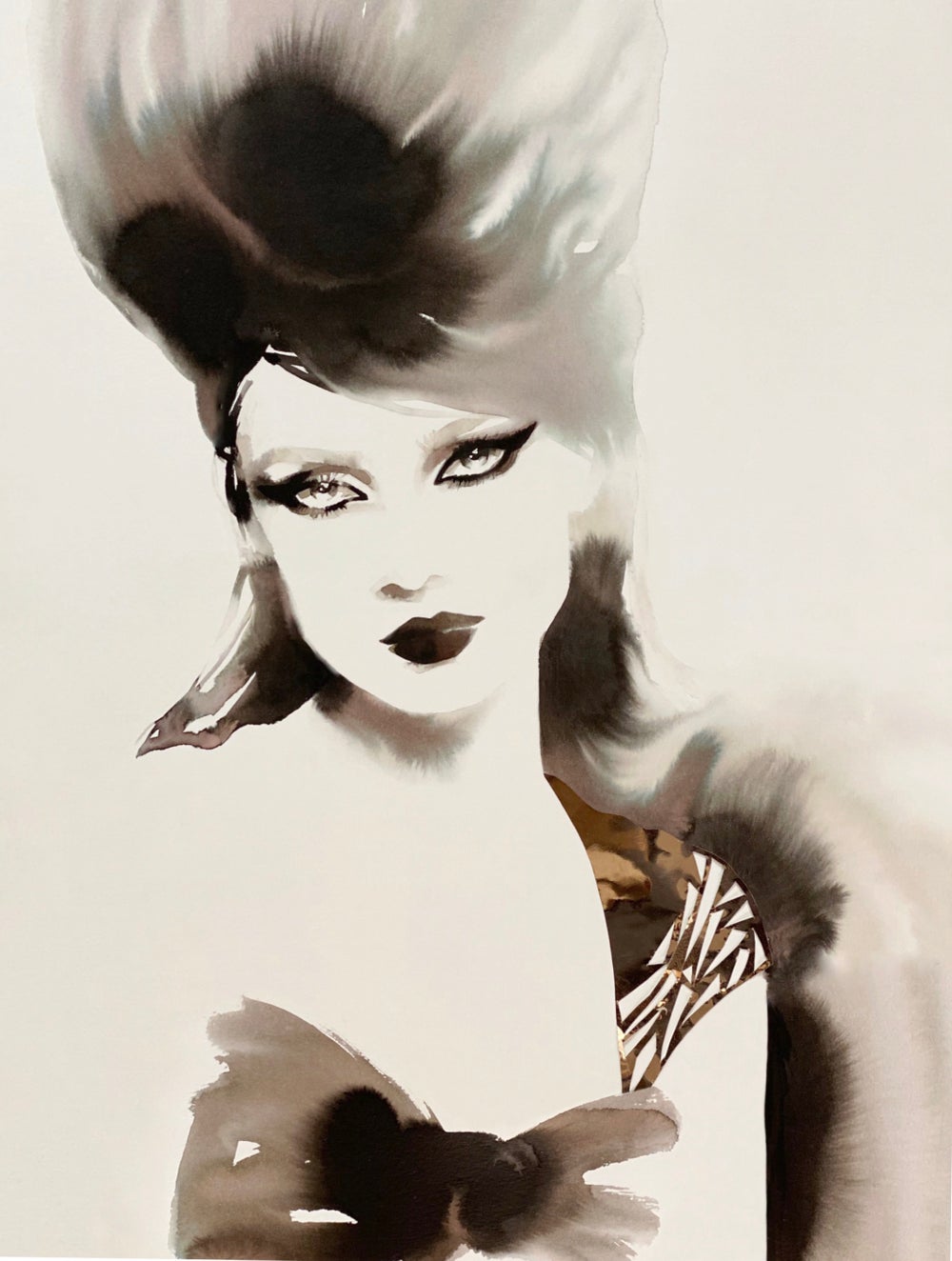 Then I add collage elements, color backgrounds, graphics, patterns that I have pre-cut… Currently I have an obsession with reflections so I work a lot with shiny, reflective, gold or silver papers. And as I take the photos, I am having fun with the reflections. The result is always a bit magical, like an illusion. I sometimes allow myself some post-creation touch-ups. So when seeing the result, people don't fully understand the different creative processes. I'm blurring the lines a bit. We live in a world in which we want to understand everything. The mystery is cool too.
Do your makeup techniques influence your work?
Of course. I feel like I work on my illustrations like I work on faces for fashion photos. They all have a story to tell. And this story always begins with a face, a personality. Then I build around the light, its style, its essence. The fact that I then take pictures and allow myself all forms of transformations is a bit like the shootings. So yes, my background influences me greatly.
As a makeup artist, who do you work for?
I work for many fashion, cosmetics and magazine brands. And I've been working with Pat McGrath for 20 years as well. I do all its shows. So when I'm in Paris, I work for Grandes Maisons such as Louis Vuitton, Chloé … There, I'm leaving for Milan Fashion Week, I'll be on the Prada or Valentino fashion shows.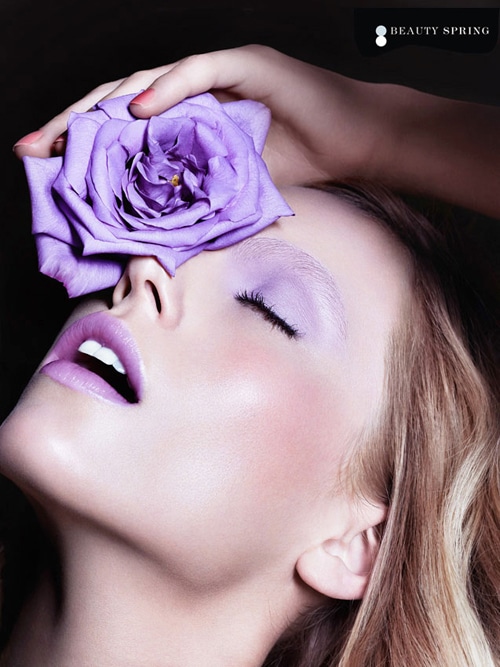 What do you like about this profession?
I like everything: the research, the teamwork, adapting the makeup on the face, the excitement, the challenge, the adrenaline. Because everything must be perfect for the time of the show. Then the end result, the parade, is nothing but joy and satisfaction.
Do you have any advice for those who want to get started in creation?
To Dare, to work, to have a try. This is an opportunity to trust your intuition, your feelings, seek your uniqueness. I understand that at first you can copy to learn. But the goal is to find its style. It is this authenticity that will touch the other.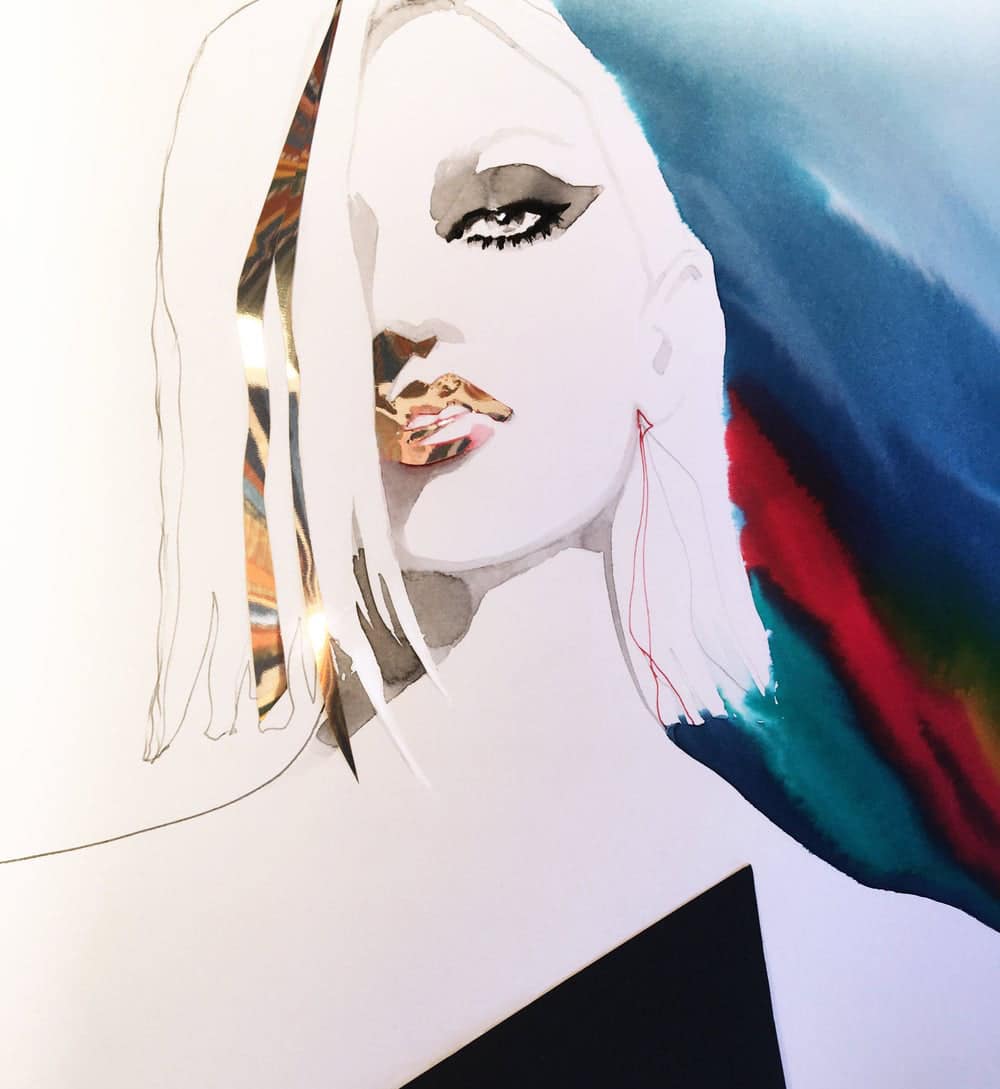 Read also > THE ARTISTIC DIRECTOR IN FASHION: A PROFESSION IN FULL MUTATION (PART 1)
Featured photo : © Anne-Caroline Ayot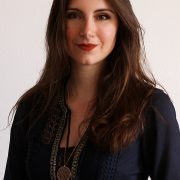 Celia Mastorchio-Fabbri
[EN] CÉLIA MASTORCHIO-FABBRI IS AN ARTIST AND PROFESSIONAL OF DIGITAL COMMUNICATION. GRADUATED FROM AN ESC IN LUXURY BUSINESS, SHE WROTE A BOOK ON ARTKETING AND LEGITIMATE COLLABORATIONS BETWEEN ART AND LUXURY. HAVING ACQUIRED HER SKILLS WITH SEVERAL BRANDS, NOTABLY BETWEEN LONDON AND PARIS, THROUGH A DIGITAL AGENCY, SHE WAS ALSO RESPONSIBLE FOR THE MANAGEMENT OF A JEWELLERY WEBSITE. TODAY, SHE CREATES NARRATIVE AND VISUAL CONTENT (ILLUSTRATIONS, PHOTOGRAPHS, COLLAGES, ANIMATIONS...) TO ACCOMPANY THE HOUSES, PARTICULARLY JEWELLERS, IN THE DEPLOYMENT OF THEIR IDENTITY. ****** [FR] Célia Mastorchio-Fabbri est une artiste et professionnelle de la communication digitale. Diplômée d'une ESC en Luxury Business, elle a écrit un livre sur l'Artketing et les collaborations légitimes entre l'Art et le Luxe. Ayant acquis ses compétences auprès de plusieurs marques, notamment entre Londres et Paris, en passant par une agence digitale, elle fut également responsable du management d'un site joaillier. Aujourd'hui, elle crée des contenus narratifs et visuels (illustrations, photographies, collages, animations…) pour accompagner les Maisons, particulièrement joaillières, dans le déploiement de leur identité.