8 back-to-school fashion campaigns that caught our eye

In September, in the fashion press, on the Internet or on bus shelters… the campaigns of the most emblematic luxury brands are annexing ever more territories and our attention spans. This season, more than ever, luxury is asserting its status as a cultural product, with autumn-winter campaigns that are more cerebral and documented than ever.
Long disparaged by advertisers as nothing more than an augmented product packshot, luxury campaigns are getting a makeover.
For the Autumn-Winter 2023 collection, it's a question of cultural renaissance, with Ferragamo paying direct homage in its own way to the Italian painters of the Quattrocento. Or on a more contemporary note, with Versace, which resurrects the supermodels of the 1980-1990s, in the wake of the September issue of Vogue and the Netflix documentary dedicated to the phenomenon of these powerful women.
It's also a stylistic renaissance with Jacquemus, who, with Gigi Hadid, the supermodel adored by millennials, offers a rejuvenating bath full of playfulness and surrealism.
For the back-to-school season, Luxus Plus has selected eight fashion campaigns to help you get up on the right foot on office day and prepare for your rigorous to-do list.
Versace
The revived Italian fashion house is experiencing an unprecedented fetishization on the part of the younger generation, fueled in particular by the broadcast on Arte of a documentary devoted to its Medusa and inheritance story.
After proposing the absolute antithesis of Quiet Luxury, anticipating the fuchsia pink of the Barbie blockbuster for its summer fashion show La Vacanza, starring singer Dua Lipa from the pool-mirror of the Château de la Croix des gardes, on the heights of Cannes, it's time for a more austere rendering around the silhouette, between shadows and light.
This season, photographic duo Mert Alas and Marcus Piggot chose to capture the 80s Power Dressing spirit – complete with decaying shoulder pads – on a floor of models including Gigi Hadid, Karolina Spakowski, Angelina Kendall and Anok Yai. In other words, a choral vision of the house's heritage of both historic icons and New Faces.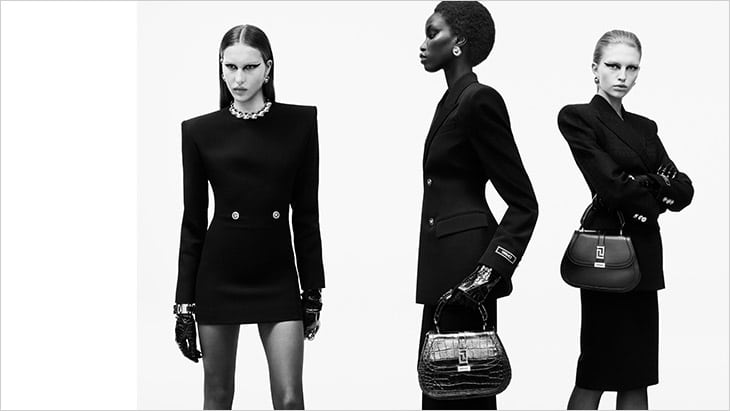 The campaign alternates between very Newtonian black-and-white studio shots (Helmut, by the way), and color shots in Versace's classic palazzo in Via Gesù 12, Milan.
The result reflects the identity of the Versace woman, a story of power, tailoring spirit and attitude.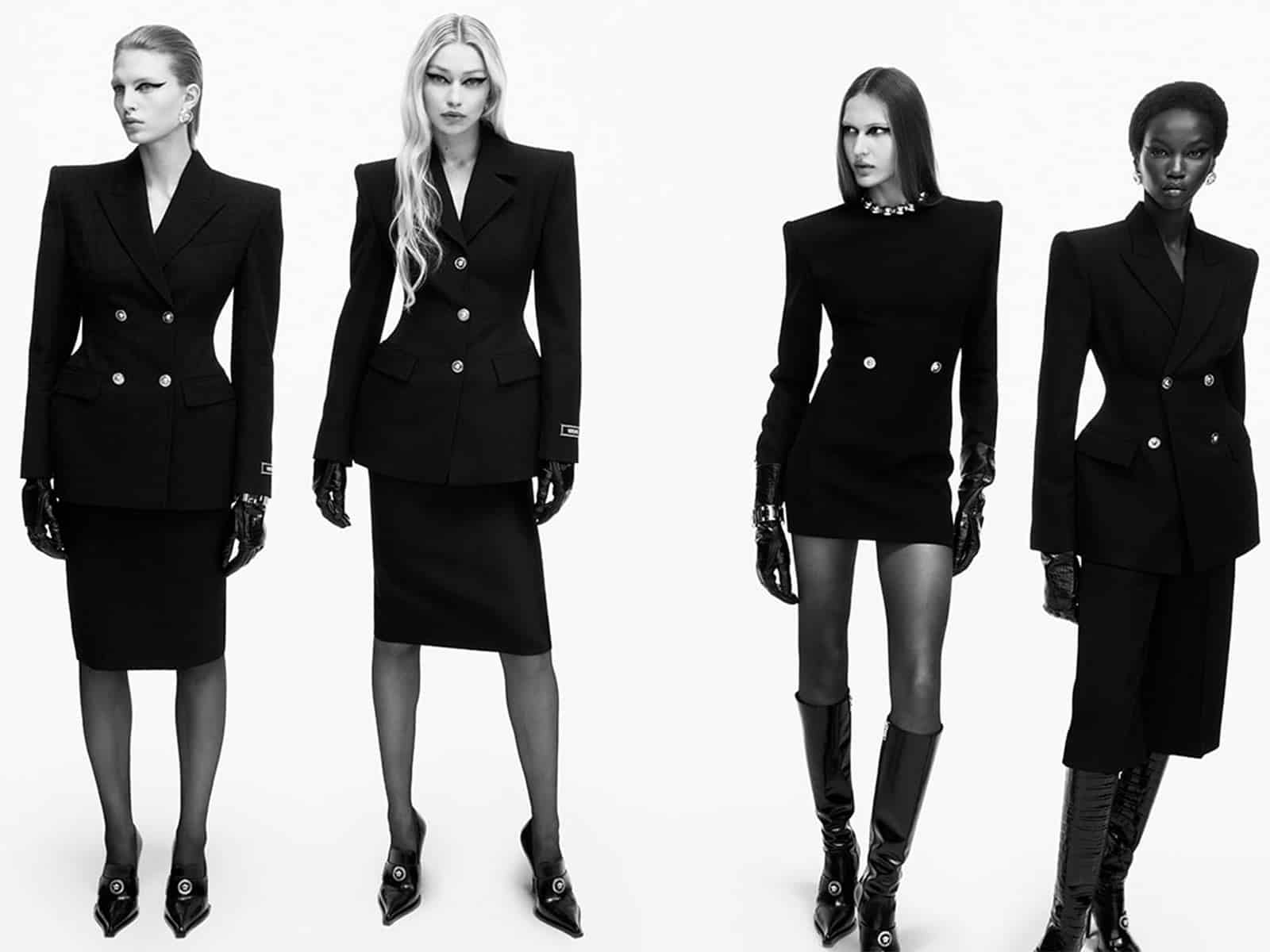 As the Italian House's iconic designer Donatella Versace declares, "On set, I loved that the models felt strong, empowered and fierce, exactly how you should feel when you wear Versace."
Ferragamo
With this new campaign, which promotes Artistic Director Maximilian Davis' Autumn-Winter 2023 collection, Ferragamo isn't afraid to summon a reference as distant as the masterpieces of the Italian Renaissance, in partnership with the Uffizi Gallery in the city of Florence.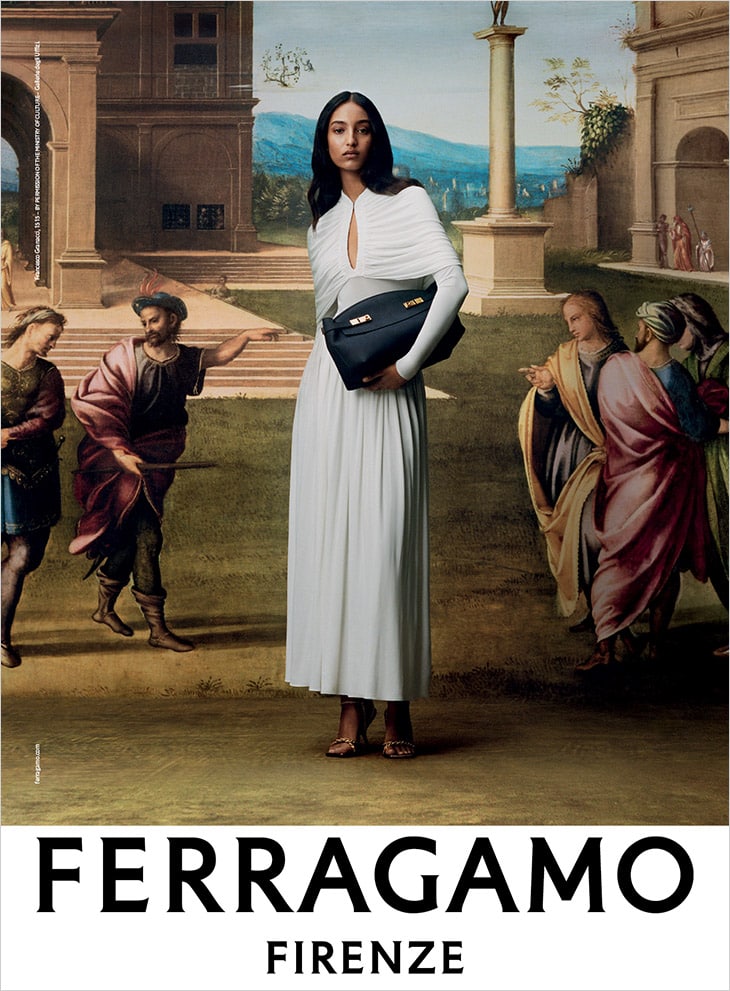 Designed by Giorgio Vasari in 1569 as offices for Cosimo I de Medici, Grand Duke of Tuscany, and one of the first modern museums opened in 1769, the Uffizi Gallery is inseparable from Ferragamo's history serving "as a beacon, promoting the importance of new ideas, art, beauty and creativity."
The campaign depicts an evolving society of models, musicians and producers. The creattive economy of yesterday and today, in short.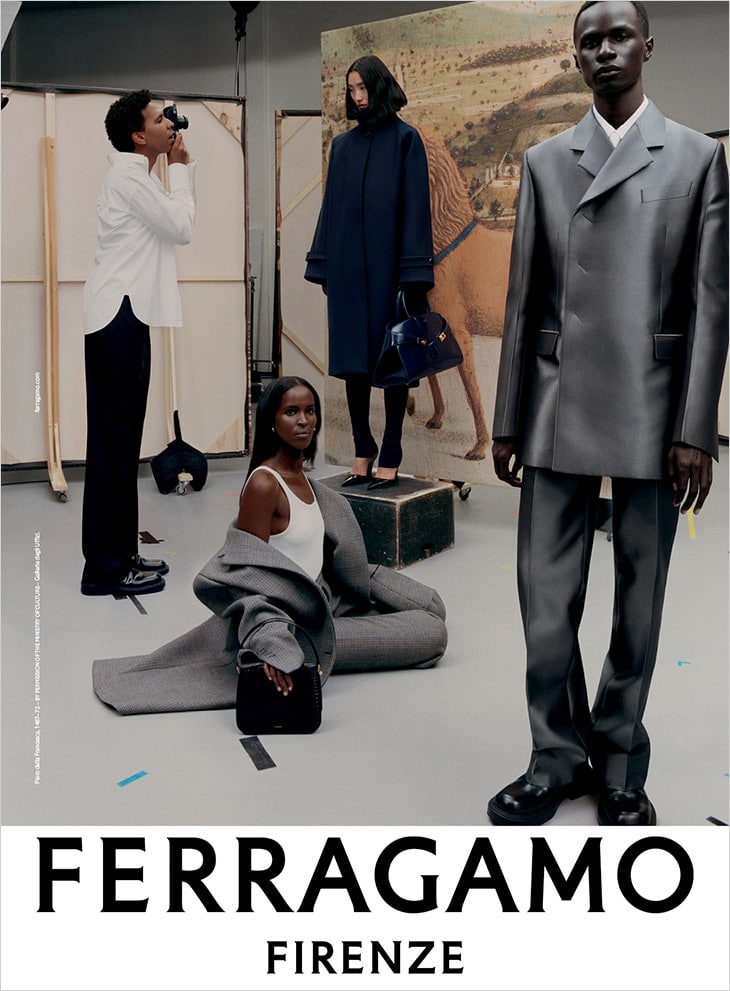 Entitled "New Renaissance", the Italian fashion house's Autumn-Winter 2023 campaign features top models Vittoria Ceretti, Anok Yai, Lina Zhang, Jessica Stam, Mona Tougaard, Paul Hameline, Iván de Pineda, Malick Bodian and Taemin Park, joined by creative consultant and strategist Zainab Jama, singer-songwriter Kelela, sound artist Yasmina Dexter and photographer Tyler Mitchell.
Here, Tyler Mitchell contrasts the breastplates and court dresses of a classic 15th and 16th-century tapestry with a more contemporary wardrobe of sensual, elegant and sophisticated ready-to-wear items, shoes and bags.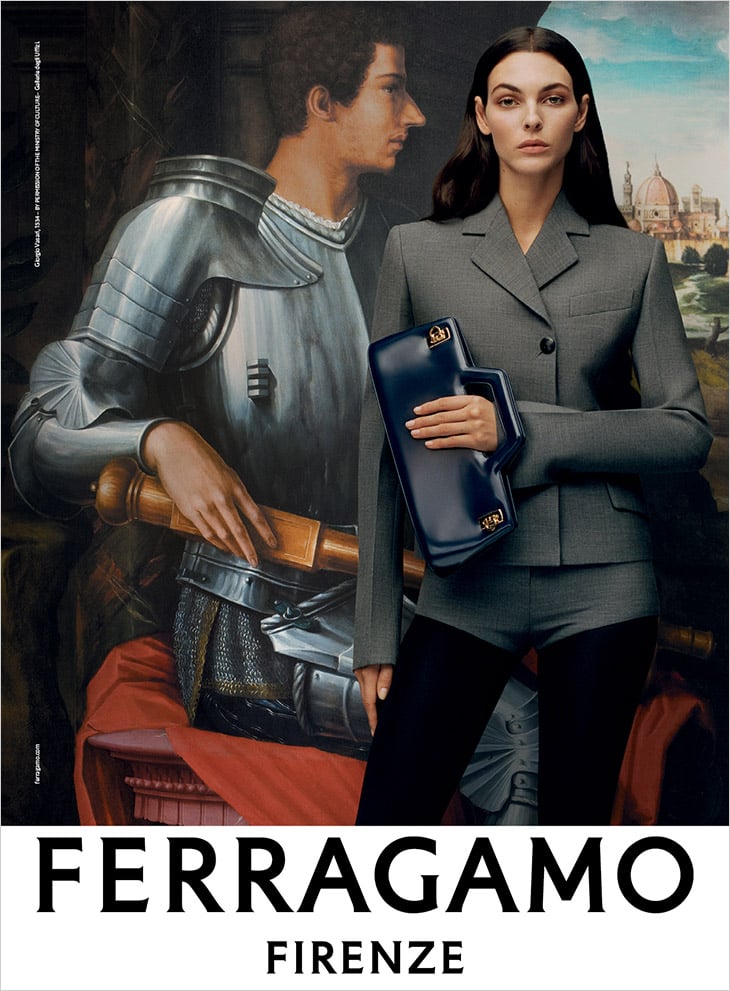 A vision of beauty and elegance that celebrates Ferragamo's timeless link with the city of Florence, the starting point of the founder's journey of craftsmanship and creativity. A city that shares Ferragamo's values of excellence, artistic mastery and humanism.
The composition is reminiscent of the founder's novel of initiation and what he called his first renaissance, "the story of the uneducated, barefoot boy who became a famous shoemaker".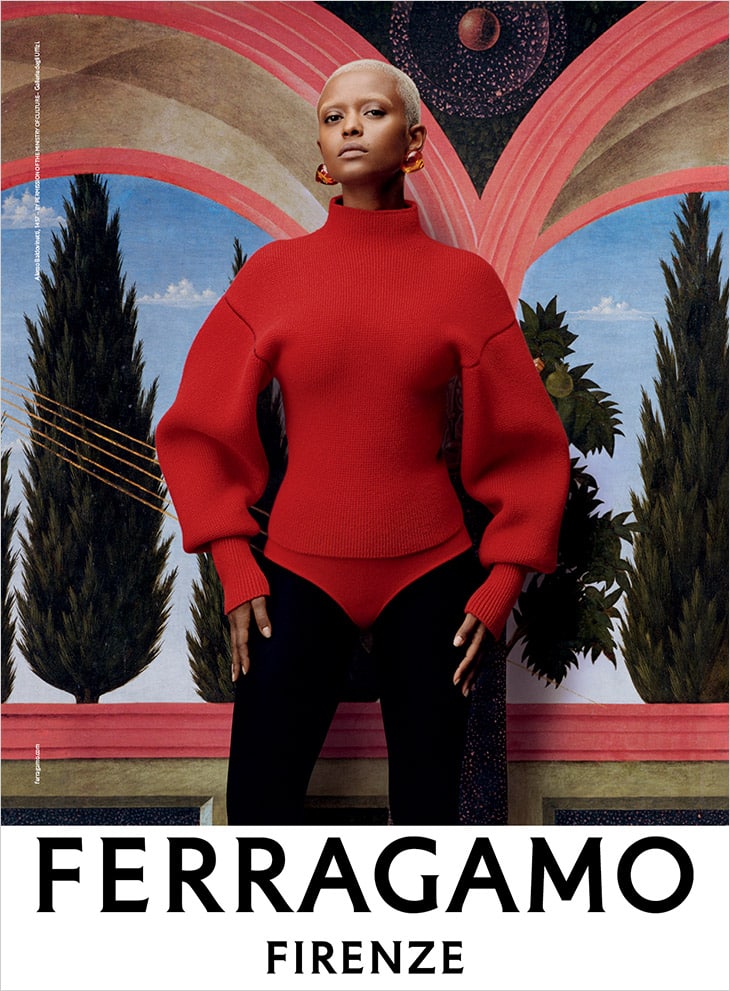 This metamorphosis was made possible by a bold blend of Italian heritage and adventurous talent, as when he opened his American boutique at 6683 Hollywood Boulevard. A setting with the allure of an Italian Renaissance masterpiece, reinforced by batik-covered walls simulating 14th-century tapestries, hand-carved sofas and luxurious curtains complementing classical columns.
The Italian Renaissance was a prolific period for craftsmanship and innovation. The House's current headquarters, the Palazzo Spini Feroni, a sumptuous 13th-century residence bequeathed to Florence by Salvatore Ferragamo in 1927, is the purest expression of this.
Montblanc
With "The Library Spirit", the Swiss company specializing in writing instruments takes us back to its holy of holies, the library, and for its second chapter, revisits it with a British twist.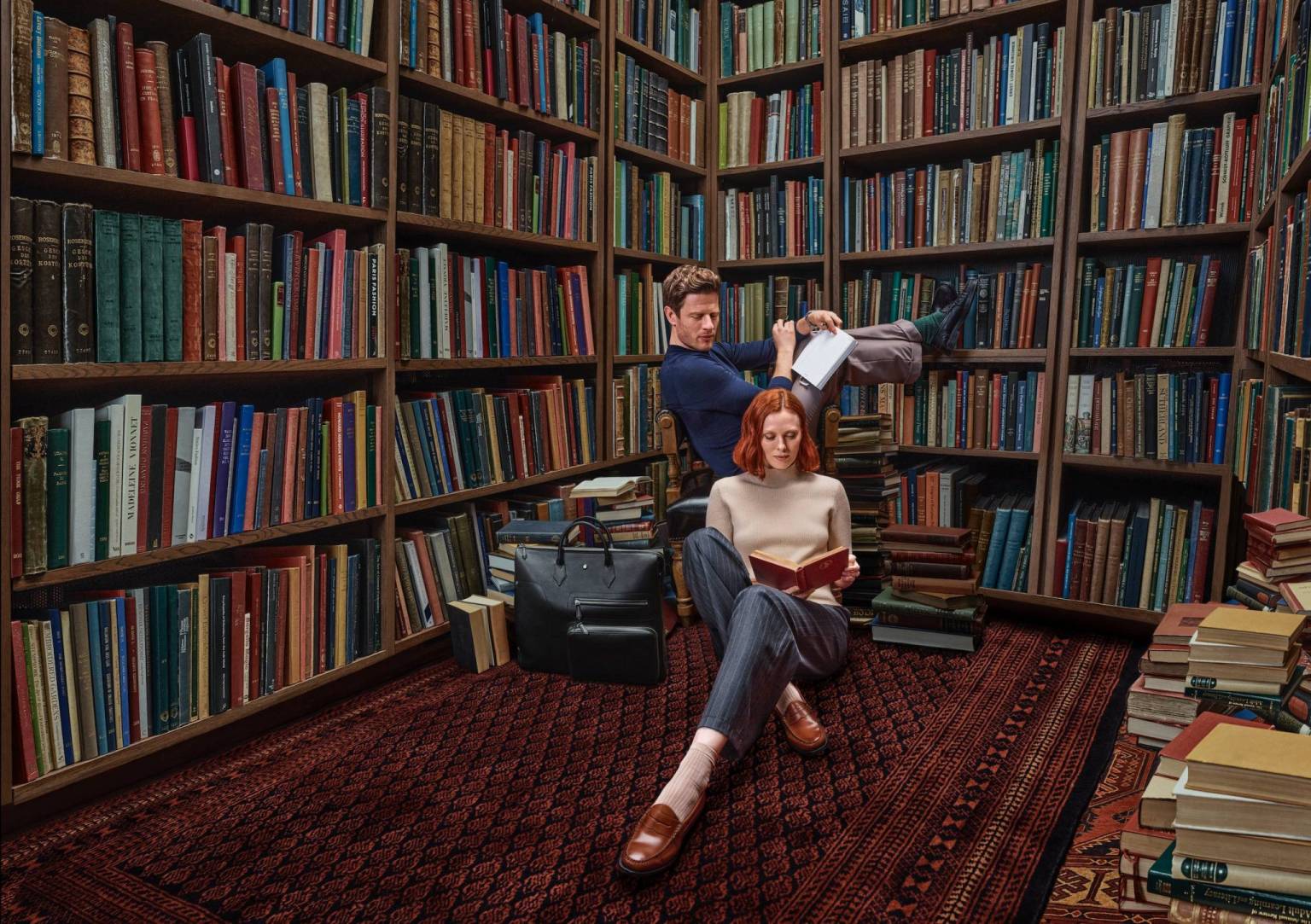 An eminently magical place of awakening and discovery, so conducive is it to imagination and reflection. A place that stores hundreds, if not thousands, of the simplest and most technical medium ever created by mankind: the book. Ah, the experience of the power of words printed on paper!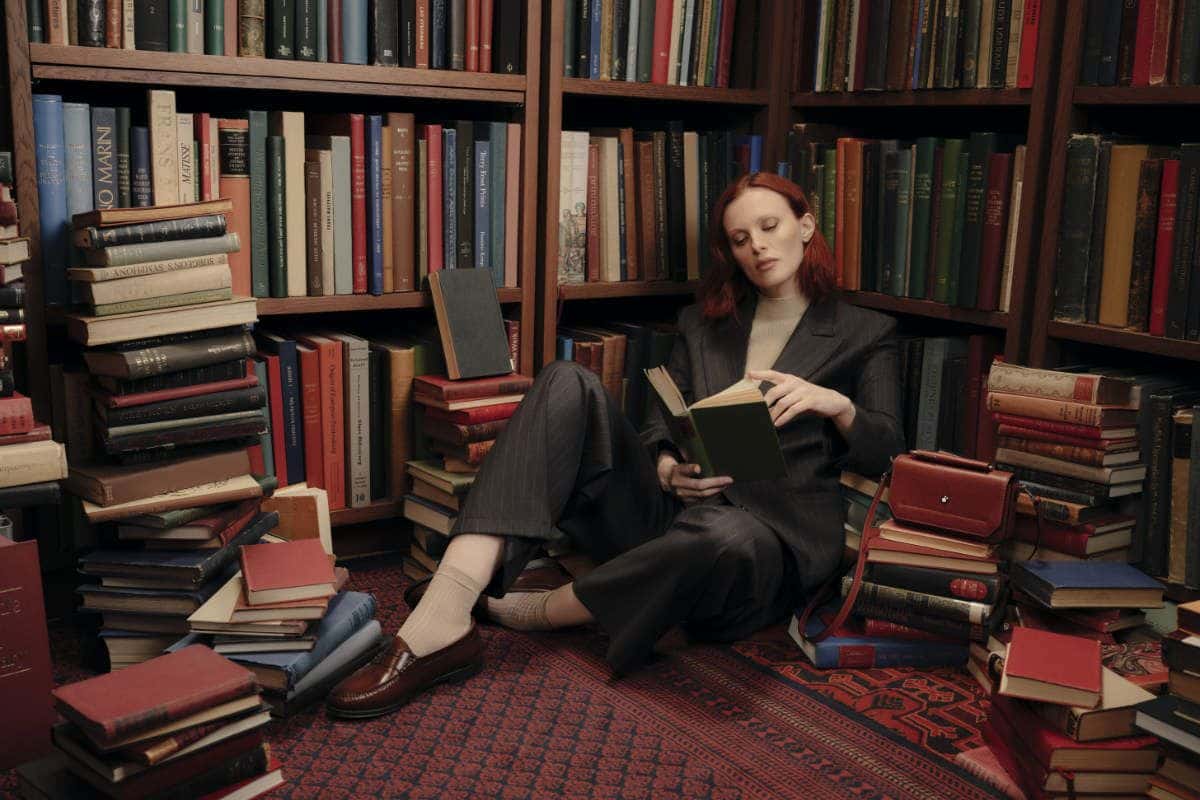 An object on the verge of extinction, when attention time is now taken up by nothing, a Netflix series, a search on your cell phone…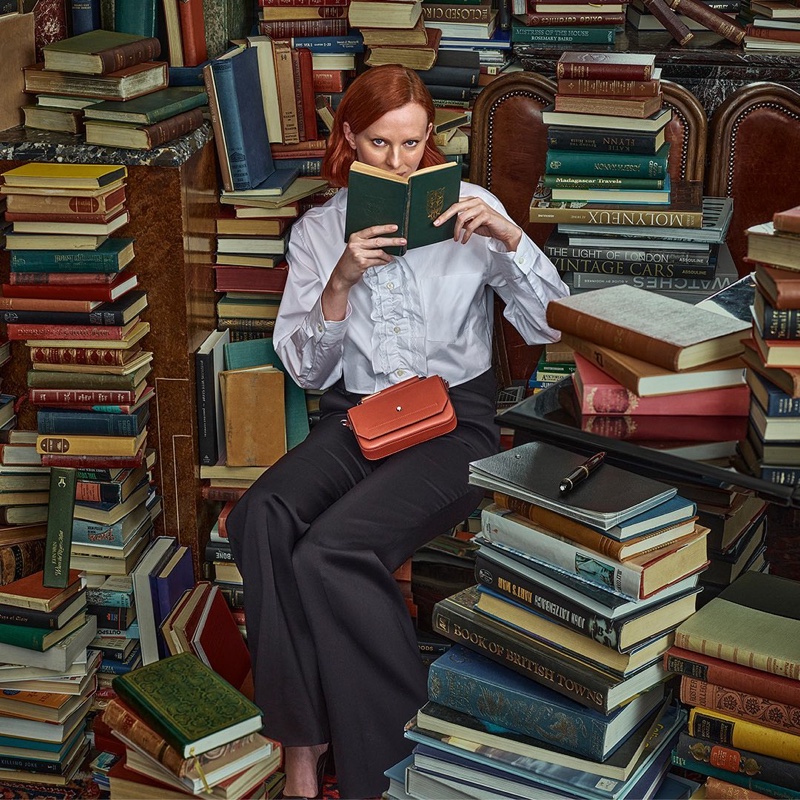 Here, world-renowned photographer Mariano Vivanco casts his eye over the London Library, recognized as one of the world's leading literary institutions.
Founded in 1841 in St James' Square, the institution boasts a collection of almost one million books. The place is well known for its founding subscribers, such as Charles Dickens and Charles Darwin, and its notable members of the literary and visual arts world, including Virginia Woolf and Stanley Kubrick.
Jacquemus
Gigi Hadid is in charge of embodying the new collection created by Simon Porte Jacquemus, in a lingerie spirit, all transparency and delicacy, in the manner of the Calais lace in the spotlight.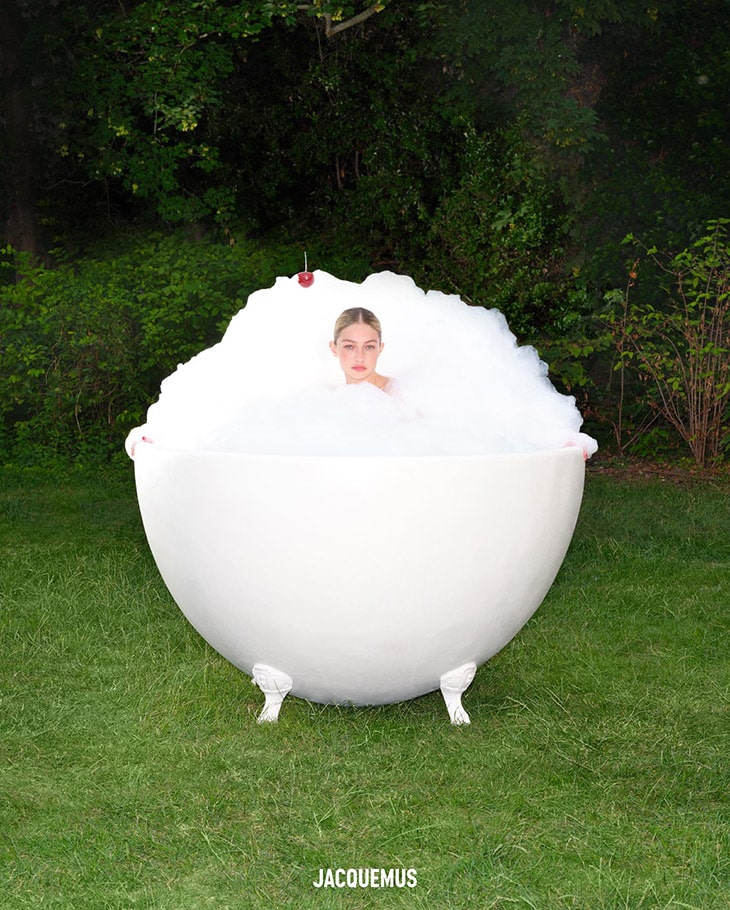 Dubbed the "Chouchou", the elegant, sensual collection – with its Versailles summer runway show – is tinged with a mischievous mood and surrealist spirit by photographer Johnny Dufort's eye, to showcase the sensory exploration of a likely new range of products.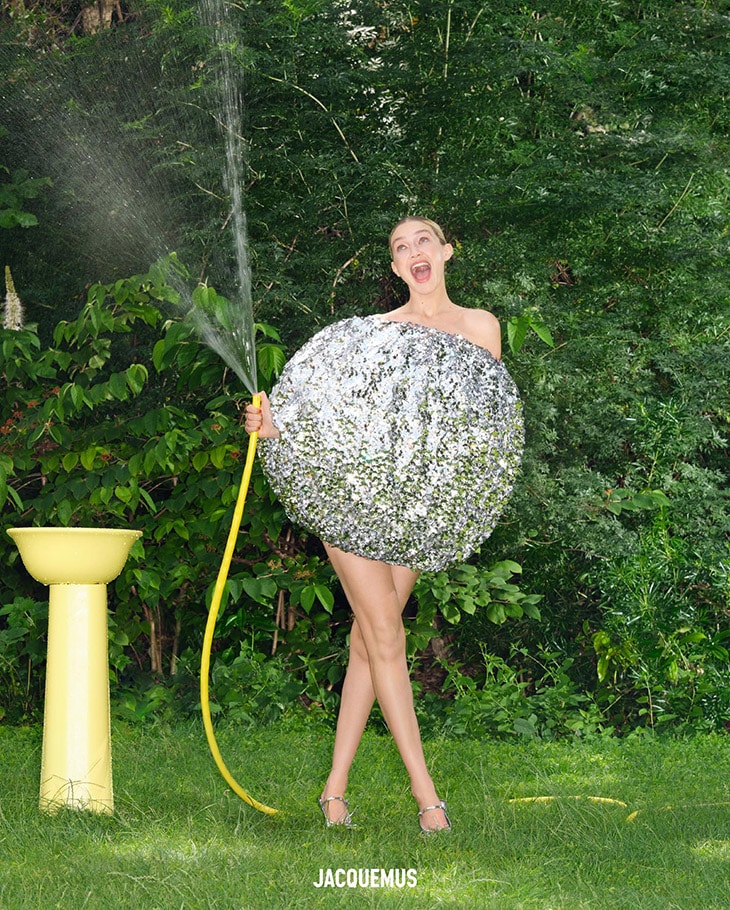 Between nostalgia and reinvention, between Lady Diana and Marie Antoinette, not forgetting Jacques Demy's masterpiece Peau d'âne, historical and royal references telescope, giving us a glimpse of chic old-world charm.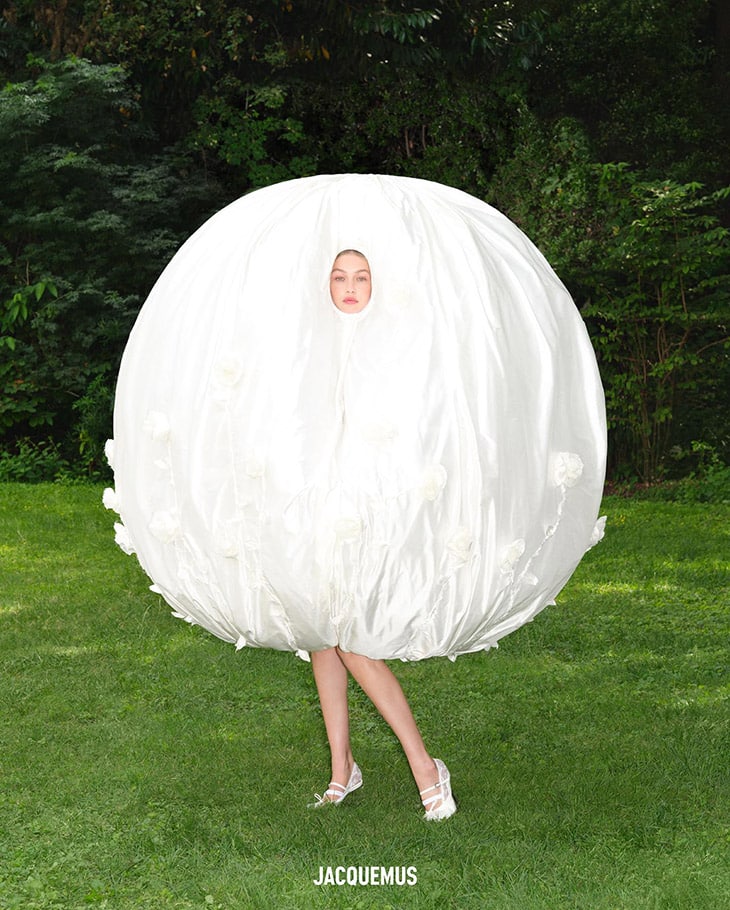 In this revisited rococo boudoir spirit, it's also a question of play, in terms of fabrics, silhouettes and colors. Immaculate white rubs shoulders with vibrant reds, not forgetting the remarkable blackness of a "revenge dress".
Miu Miu
The Prada group's brand dedicated to the younger generation offers a highly intellectual staging, in the image of its parent company's campaigns.
For its new campaign, entitled "Miu Miu: LIVE!", it's a question of liminal (time) spaces, situated "between real time and time to come, between transitional and democratic spaces in shades of gray".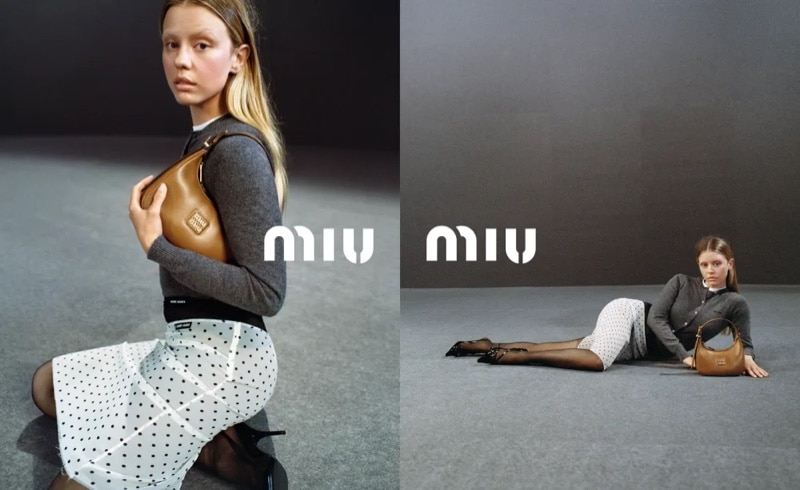 According to the official release, the characters who inhabit this world – including singer-songwriter Ethel Cain, actors Emma Corrin, Mia Goth and Zhao Jinmai, models Amelia Gray Hamlin and Annabelle Weatherly, and model and LGBTQ+ rights advocate Zaya Wade – are both outward-looking and inward-looking.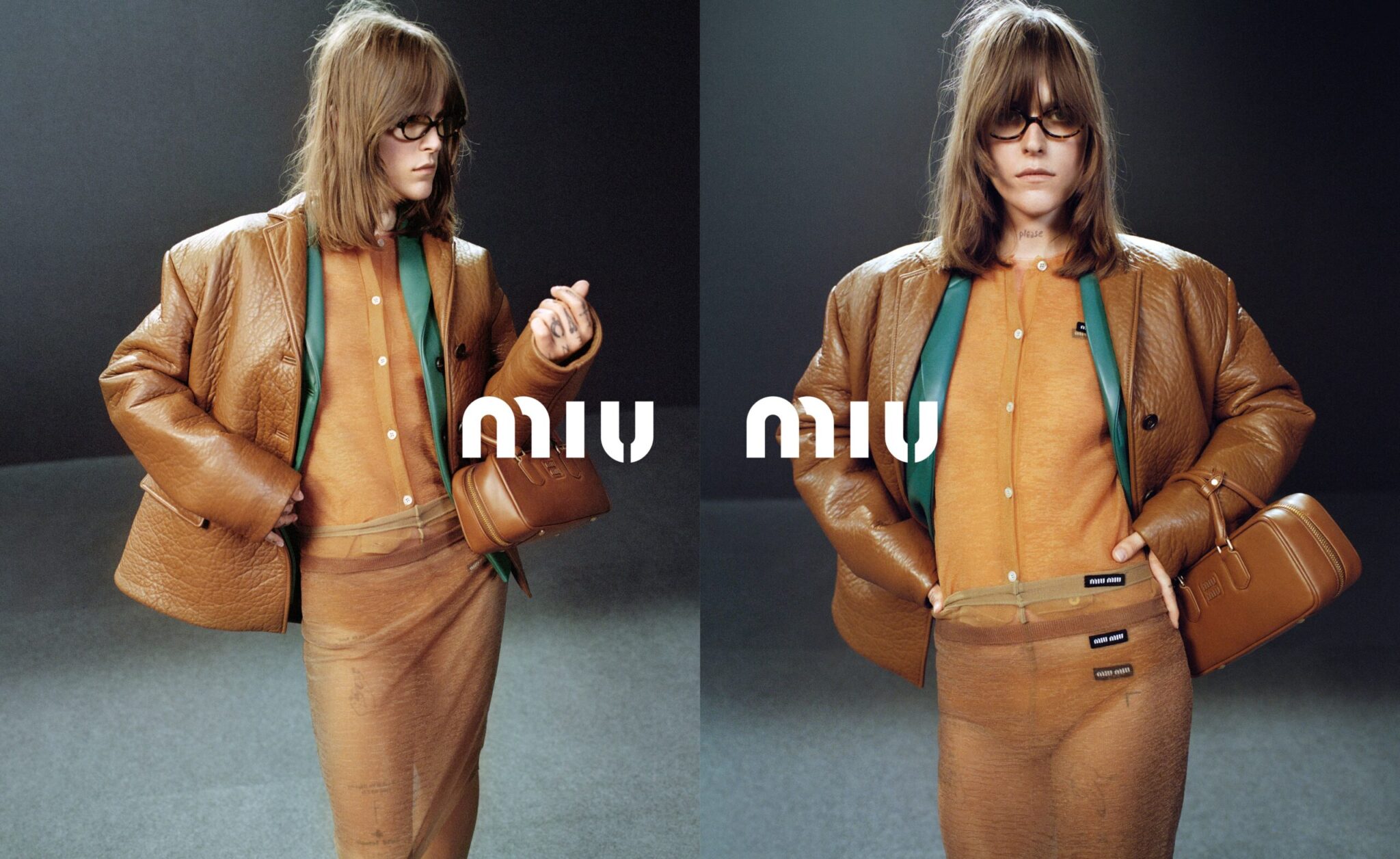 The campaign explores the notion of disruption, even disruption of the everyday, with some of the most moody, even spasmatic behavior. Immediate performance driven out by egocentricity, then distance: "A studied disorientation occurs – the familiar is disrupted."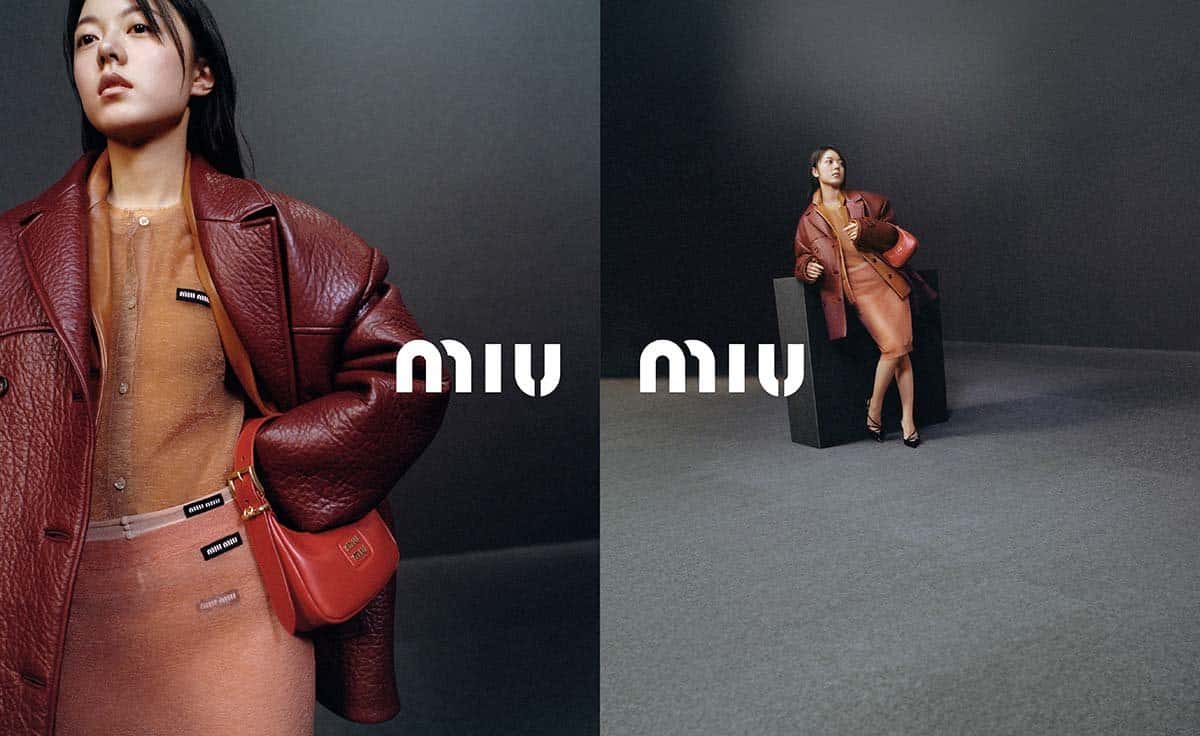 This idea of disruption extends to the wardrobe. Elegant twin sets, knee-length pencil skirts and oversized suits in dry, heavy wool cover the body…and uncover it. What is universally recognized – the sincere – is subverted, looked at in a different way.
A contemporary vision of the impermanence of things, with silhouettes that are very #Librarianfashion, understanding the nerdy, librarian style of the 1970s.
A topless vision, the fabrics play on transparency, while the tights are directly exposed to view like new pants, a gimmick launched by the Kardashian family, led by Kendall Jenner.
Chanel
This season, the Maison de la rue Cambon led by Virginie Viard delivers a vision centered on delicacy and fluidity.
The winter flower camellia gracefully slips into the Fall-Winter 2023 ready-to-wear collection in small, joyful touches. A suspended romanticism whose prints blossom on pockets, jackets and buttons.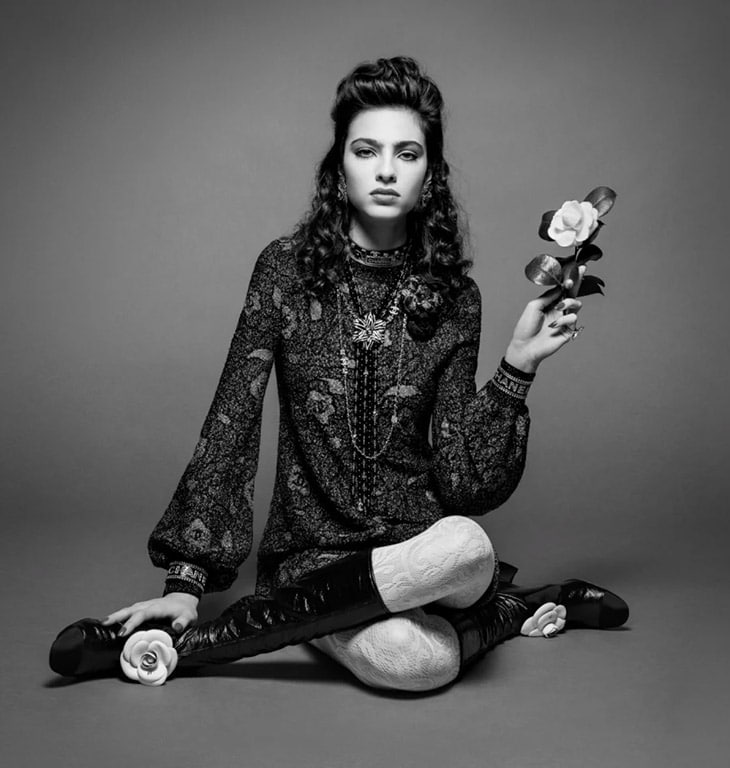 The collection features a stylistic grammar appreciated by Generation Z, with asymmetrical coats, slit dresses, slanted-front Bermuda shorts and playful ruffles.
An erogenous zone that has long been under-exposed, the back is now revealed, adorned with pearls and sequins. Knitwear, meanwhile, incorporates fancy threads.
Here, fashion photographers Inez van Lamsweerde and Vinoodh Matadin immortalize the 19-year-old French model of Algerian origin – the juvenile double of actress and director Maiwenn in the film La Du Barry – Loli Bahia.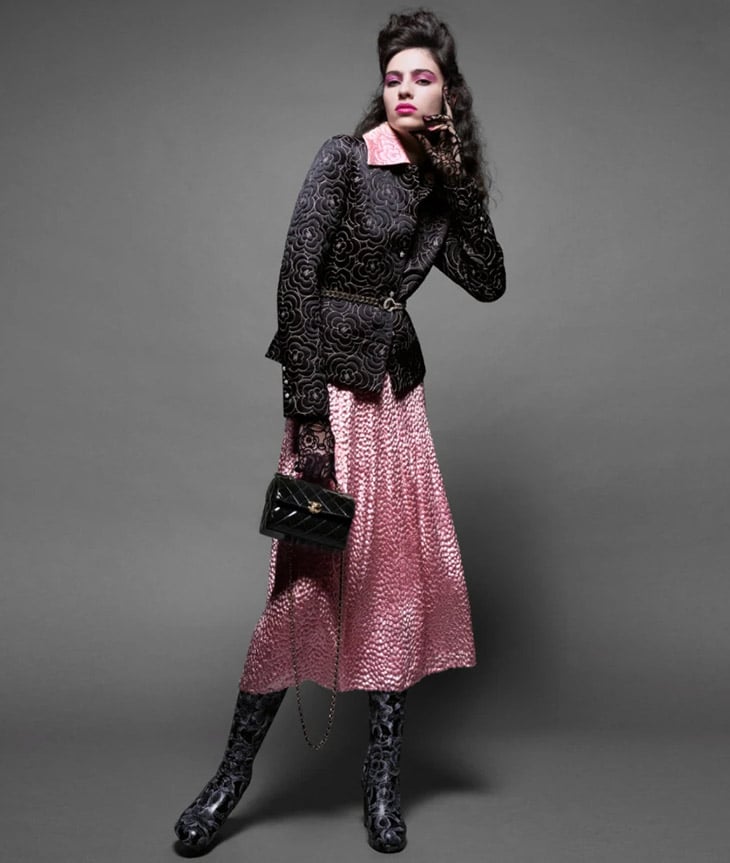 Launched by Nicolas Ghesquière in 2020 for the Louis Vuitton show, this "radiant beauty" – the meaning of Bahia in Arabic – has been on the catwalk ever since, from Saint Laurent to Versace, via Prada , Fendi and now Chanel.
For Maison au Camélia, she portrays a woman-artist with a bohemian spirit and a very '70s psychedelic je ne sais quoi.
The result is an energetic campaign lifted by a precise coloroma of black, white and various shades of pink.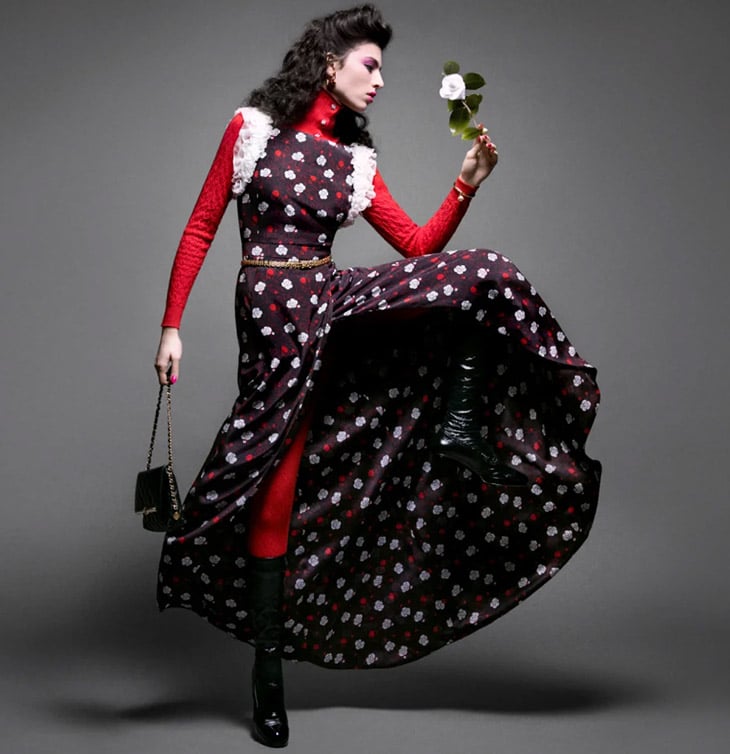 Current artistic director Virginie Viard insists on a certain English vibe, with "faded colors, dark pink, handcrafted pieces, touches of the 60s and 70s, comfortable, wrap-around coats, authentic materials."
Stella McCartney
The figurehead of eco-responsibility in luxury is back with a delicate, poetic campaign in the equestrian world, a territory of expression more associated with Hermès and Longchamp.
And the horsewoman is none other than model and influencer Kendall Jenner. A dialogue between mankind and equine filled with respect and sincerity, as evidenced by a 2016 interview in which Jenner told Harpers Bazaar: "I've always loved animals. I've been riding for 10 years and I was thinking of becoming a professional rider and then a veterinarian".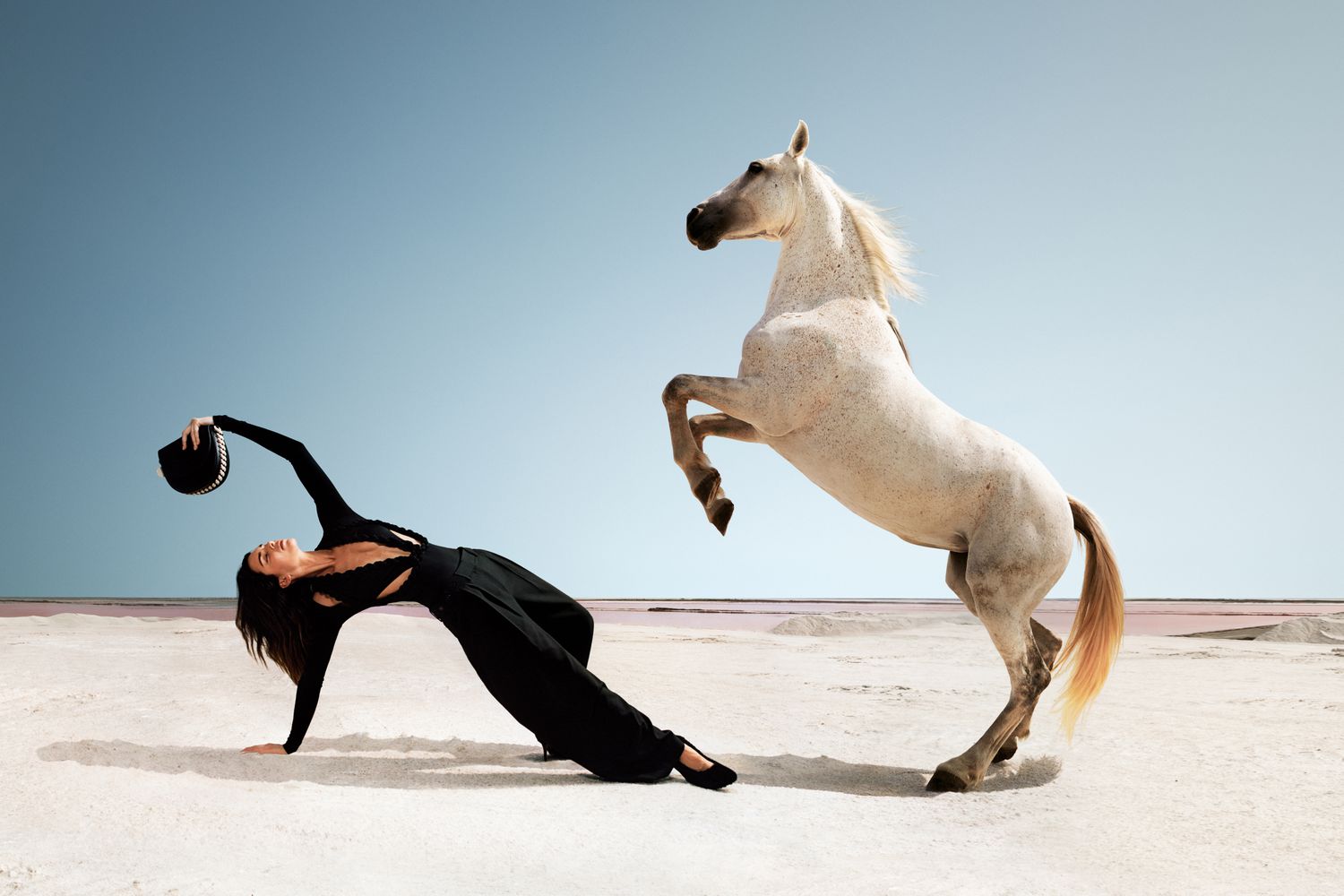 Photographer Harley Weir immortalized the beauty in the minimalist, immaculate setting of the Salines de Camargue, surrounded by the region's white ponies, trained by Jean-Paul Pignon.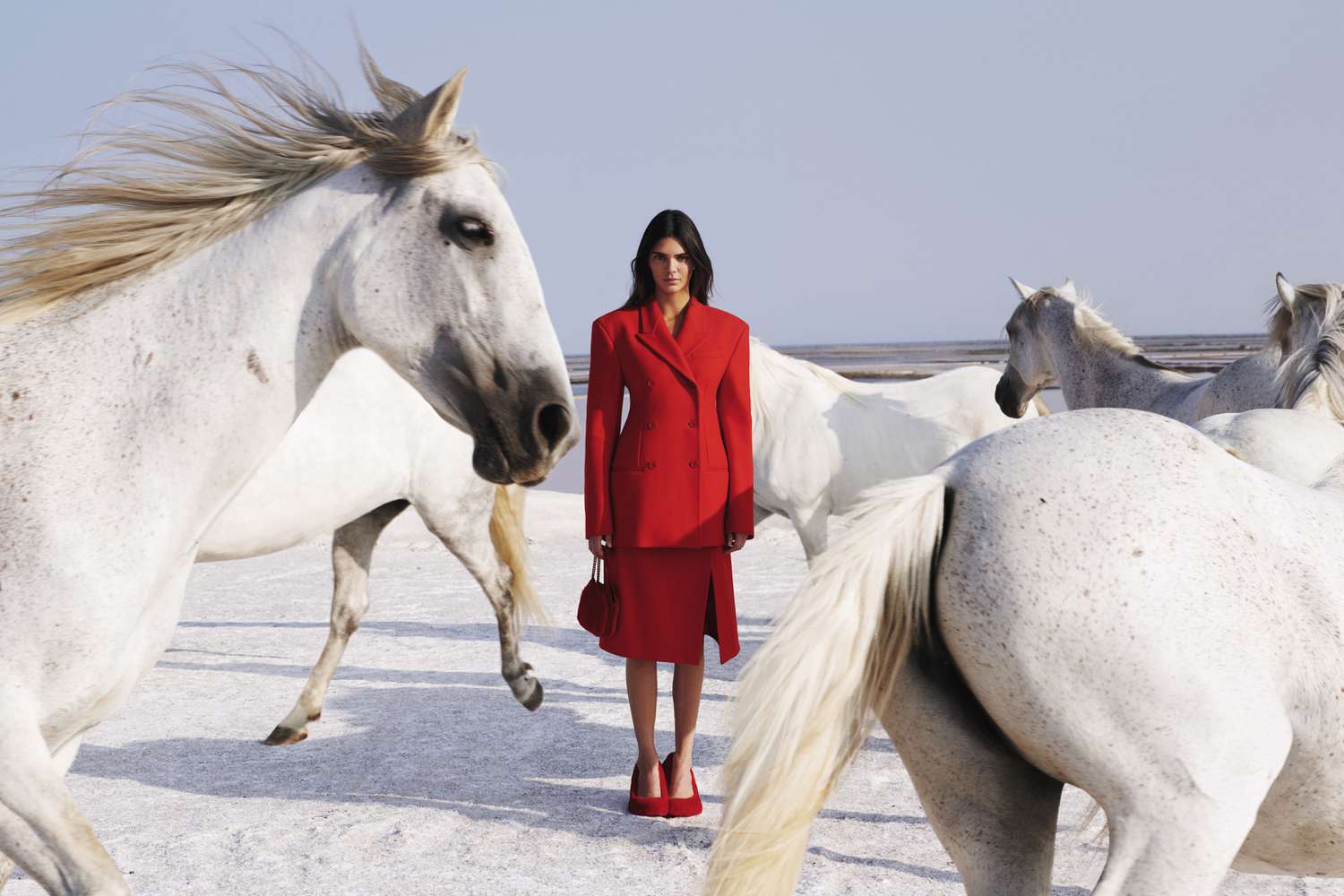 An elective affinity confirmed by the designer: "I knew that this season's Stella had to love horses as much as I do". She added, "Kendall has been riding horses since she was a child, just like me, and has her own ranch; you can see how comfortable she is with these sensitive creatures and they with her."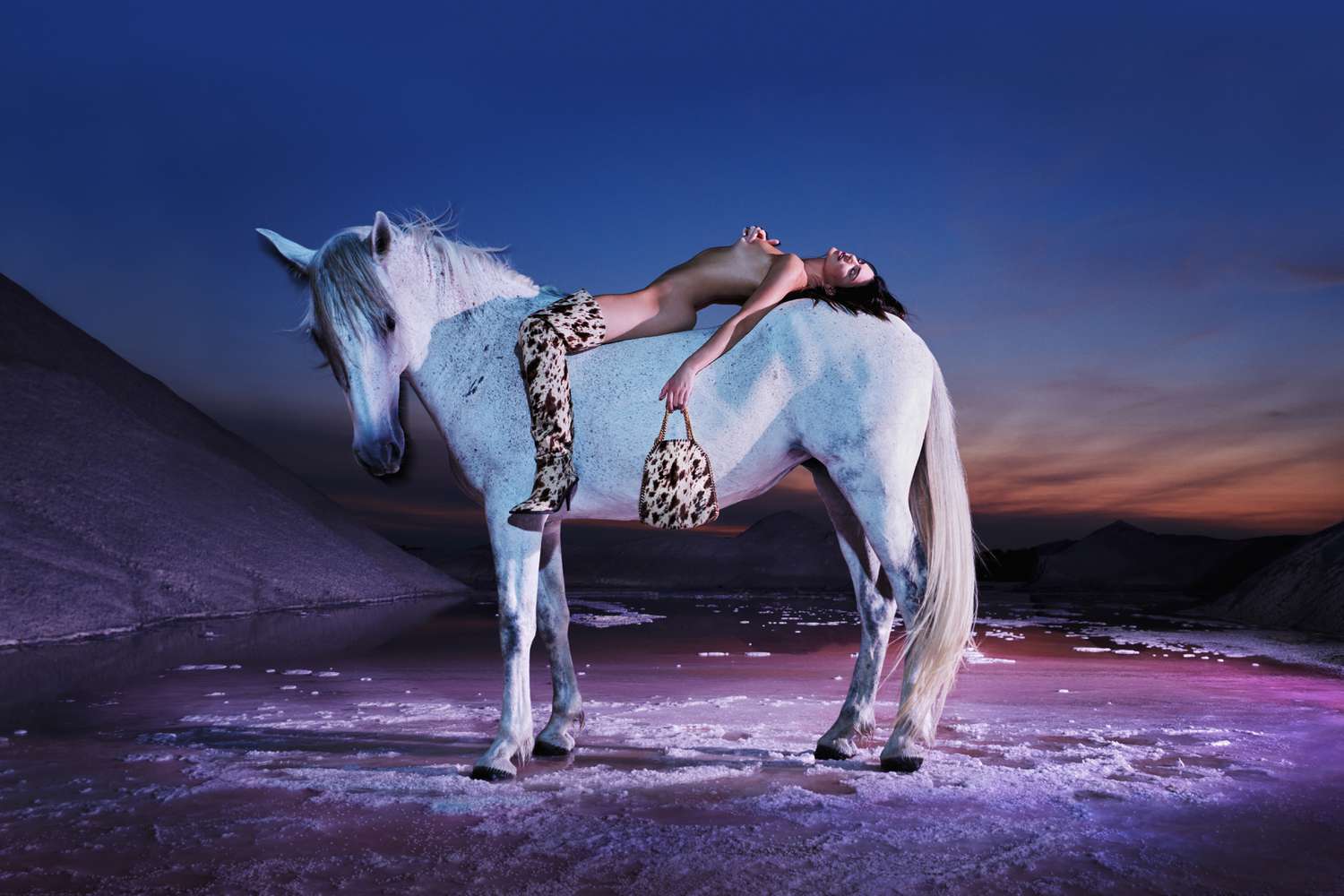 Read also > SUMMER'S BEST FASHION ADVERTISING CAMPAIGNS
Featured page photo: © Ferragamo
Victor Gosselin
[EN] VICTOR GOSSELIN IS A JOURNALIST SPECIALIZING IN LUXURY, HR, WEB3 AND RETAIL. HE PREVIOUSLY WORKED FOR MEDIA SUCH AS SPARKS IN THE EYES, WELCOME TO THE JUNGLE, LE JOURNAL DU LUXE AND TIME TO DISRUPT. A GRADUATE OF EIML PARIS, VICTOR HAS EXPERIENCED MORE THAN 7 YEARS IN THE LUXURY SECTOR BOTH IN RETAIL AND EDITORIAL. CULTIVATING A GREAT SENSIBILITY FOR THE FASHION & ACCESSORIES SEGMENT, HERITAGE TREASURES AND LONG FORMAT, HE LIKES TO ANALYZE LUXURY BRANDS AND PRODUCTS FROM AN ECONOMIC, SOCIOLOGICAL AND CULTURAL ANGLE TO UNFOLD NEW CONSUMPTION BEHAVIORS. BESIDES HIS JOURNALISTIC ACTIVITY, VICTOR ACCOMPANIES TECH STARTUPS AND LARGE GROUPS IN THEIR CONTENT PRODUCTION AND EDITORIAL STRATEGY. HE NOTABLY LAID THE FOUNDATIONS FOR FASHION & LUXURY TRENDY FEATURE ARTICLES AT HEURITECH AND WROTE THE TECH SPEECHES OF LIVI, INNOVATION INSIDER OF THE LVMH GROUP.************** [FR] Victor Gosselin est journaliste spécialiste des univers luxe, RH, tech et retail, passé par Sparks In The Eyes, Welcome To The Jungle, le Journal du luxe et Time To Disrupt. Diplômé de l'EIML Paris, il dispose de plus de 7 ans d'expérience dans le secteur du luxe aussi bien sur la partie retail que éditoriale. Cultivant une grande sensibilité pour le segment mode & accessoires, l'Asie, les trésors du patrimoine et le long format, il aime analyser les marques et produits de luxe sous l'angle économique, sociologique et culturel pour révéler de nouveaux comportements de consommation. En parallèle de son activité journalistique, Victor accompagne les startups tech et grands groupes dans leur production de contenu et leur stratégie éditoriale. Il a ainsi posé les bases des articles de fond tendanciels Mode & Luxe chez Heuritech ou encore rédigé les prises de parole tech de Livi, Innovation Insider du groupe LVMH.