Dinner at the CAFE DES ARTS-FONDATION MANIGLIER : a visual and gustatory spell

A unique restaurant in the world. The dinner takes place in a former sugar mill that houses the MANIGLIER Foundation in Mauritius. The owner, Jocelyn Gonzalez, a flamboyant personality, adds to the magic of the place.
A dinner in a huge art gallery is not a common occurrence.
CAFE DES ARTS is probably one of my favourite restaurants on this planet. That's it.
The marriage between pictorial art and culinary art makes it an unexpected place. It is both visually and tastefully enchanting. Rare, very rare.
I went there three times, I had unforgettable moments, and I always kept this address in a small corner of my heart.
So, when I was in Mauritius, I suggested to some friends who live in Grand Bay to discover Le CAFE DES ARTS. This cannot be improvised. We booked a few days earlier. On the day, we headed for Trou d'Eau Douce, in Flacq, on the east coast of the island.
When we arrived in this "hole", that is to say in the countryside, the car was parked near a Banyan Tree (or multipliant, in French), an impressive tree referenced as one of the oldest in Mauritius. It lives up to its name. It seems happy to welcome us, spreading its branches in a multiple way.
An old sugar mill rehabilitated into a restaurant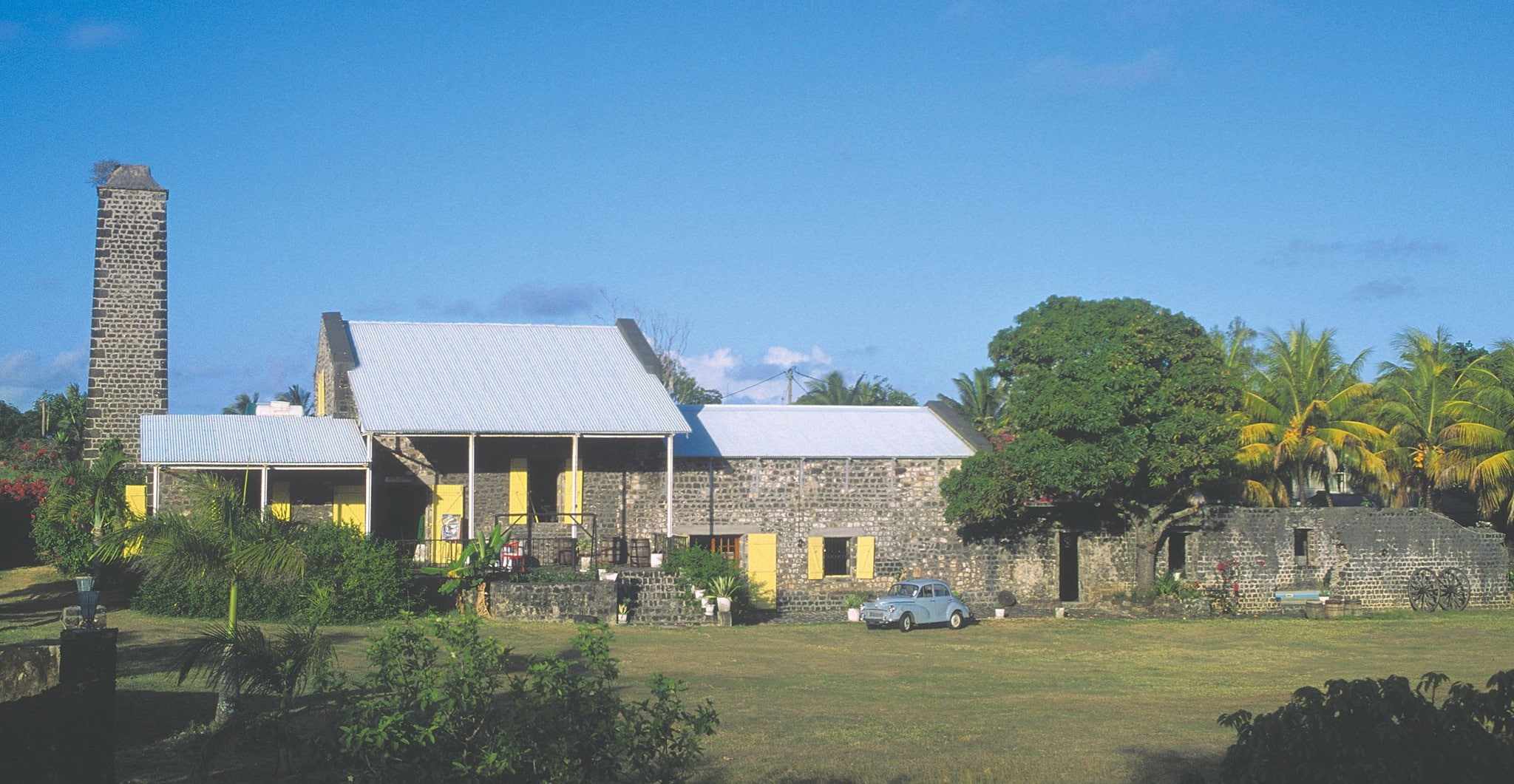 The charm is immediate when we see the building of this former sugar mill built in 1840, at the time of Queen Victoria, then closed in 1956, rehabilitated in 2004. Let us not forget that the British occupied the island of Mauritius from 1810 to 1968.
Jocelyn Gonzalez and Patricia Elisabeth Scott, his Mauritian wife, welcome us in a huge workshop with high ceilings, on two levels, with a view on the swimming pool through the open space.
As soon as we enter, we are overwhelmed. All the walls are covered with the paintings and drawings of Yvette Maniglier, a French artist who was born in Burgundy in 1929 and died in 2007… in Mauritius. There is not a single inch of space left fallow: in all, some sixty works are on display, while others are impatient to come out of the boxes for the next season.
Profusion, abundance of colours, forms, styles. These paintings, which are mainly figurative, dapper with bright and warm colours, give a tremendous energy. It's the antidote to the gloom. Here we breathe, we are in a joyful mood.
We are light years away from establishments that try to decorate their walls with a few paintings by more or less fashionable artists. Here there is a story. A love story. Without Yvette Maniglier, the CAFE DES ARTS would not exist.
Meeting between Jocelyn Gonzalez and Yvette Maniglier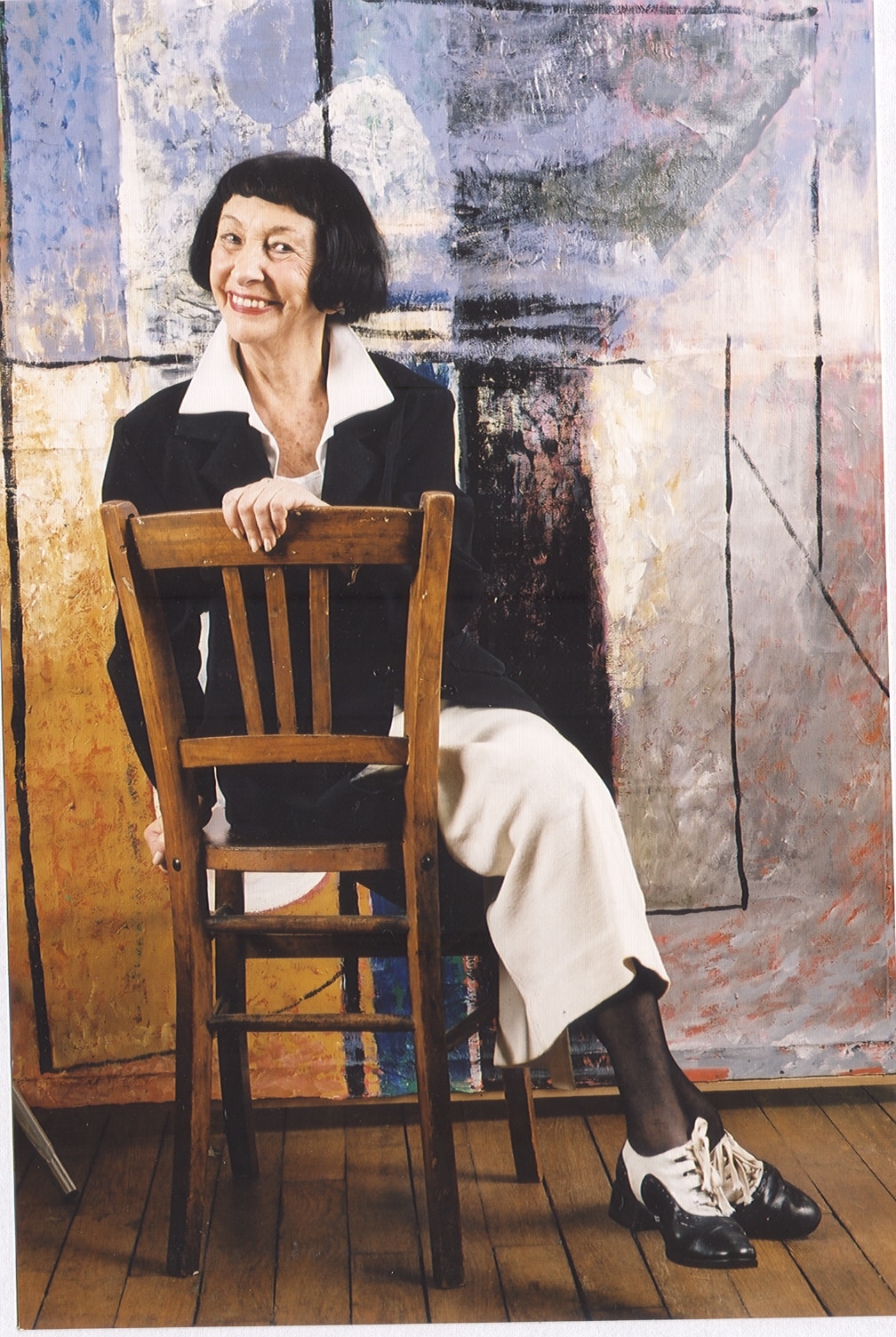 "I met Yvette Maniglier on a plane coming back from Los Angeles in 1998. She had sketched me while I was asleep and gave me the drawing when I woke up," says Jocelyn.
This great lady was the last student of Henri Matisse, the master of Fauvism. She perfected her art throughout her life, notably with famous painters such as Picasso and Modigliani. She never acquired the notoriety of her masters, but she was one of the Montparnasse artists of the post-war period.
Jocelyn fell in love with the artist and started to buy her paintings, one by one. Over time, he became her patron and the biggest collector of her work. "Yva came to see me in Mauritius," he says. Then she settled in this old mill to paint. She lived here for three happy years before she died of a heart attack."
Yvette had no children, so she adopted Jocelyn. Her patron created the MANIGLIER FOUNDATION in order to dedicate her work.
In 2004, he inaugurated the CAFE DES ARTS-FONDATION MANIGLIER with the participation of Jean-Claude Brialy. Jocelyn knows the business well, having worked in the hotel and restaurant business, notably at the Desroches Island Hotel (now the Four Seasons) in the Seychelles.
Nothing to do with the famous Café des Arts in Saint-Tropez. The CAFE DES ARTS MAURITIUS lives up to its name. It is the alliance of the delights of the mouth and the visual pleasures. Two destinies forever linked.
The 10th anniversary of CAFE DES ARTS celebrated with Maxime Le Forestier… Ambalada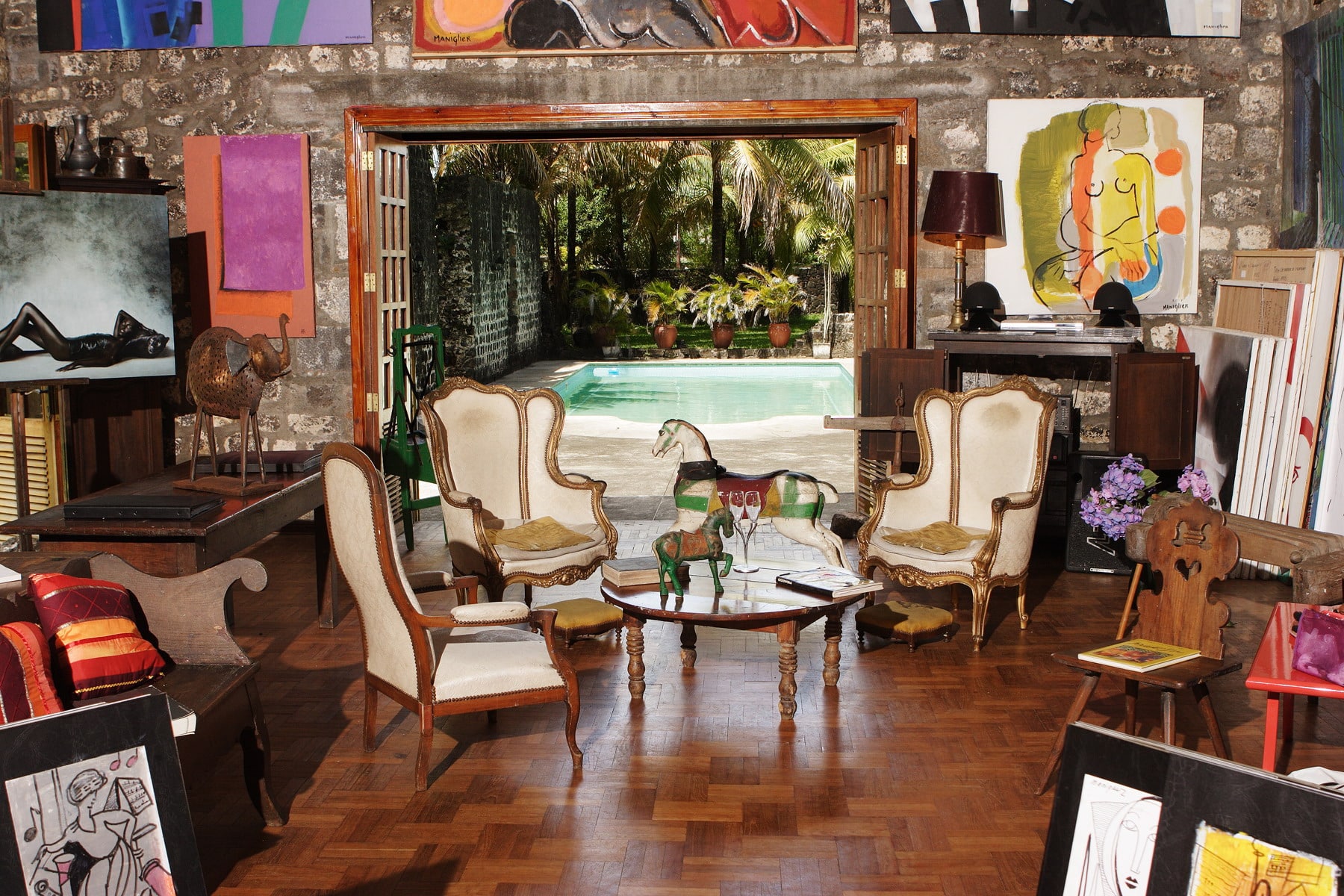 We sink into a large sofa to have a glass of champagne and consult the imposing map, enhanced, of course, by a painting by Maniglier.
All the furniture has been found. It feels like home! Coral red tables and chairs catch our eye. "This colour corresponds to the invitation card for the last "Matisse-Picasso" exhibition at the Grand Palais in 2002″, explains Jocelyn, who designed them as a tribute to his father, a furniture designer in Barcelona.
I forgot my glasses ? A pair of reading glasses, available to customers, is immediately offered to me. Here the attentions are unprecedented. We are pampered by Jocelyn and Patricia. An art of hospitality worthy of the best Michelin stars. With a friendly touch that makes it a "special" place. As if we were being welcomed at a friend's house. In fact, our guests have become friends. Customers come from all over the world and are sure to offer a gift from their country! Yes, that's how it is at CAFE DES ARTS.
Nothing is left to chance. The musical atmosphere has its signature. Jocelyn has created compilations of jazz music from which he has chosen the pieces. Moreover, he himself is a musician, trained at the conservatory of Nîmes.
In the extension of the living room, I plunge my gaze into the blue lagoon pool. I imagine the big parties regularly organised, this blue rectangle turning into a dance floor. Summer guests staying in hotels near the CAFE DES ARTS love to escape there for an evening or more… Maxime Le Forestier sang Ambalaba, a Mauritian-inspired song, for the restaurant's tenth anniversary.
Black tablecloth, large square white plates with a drawing by Maniglier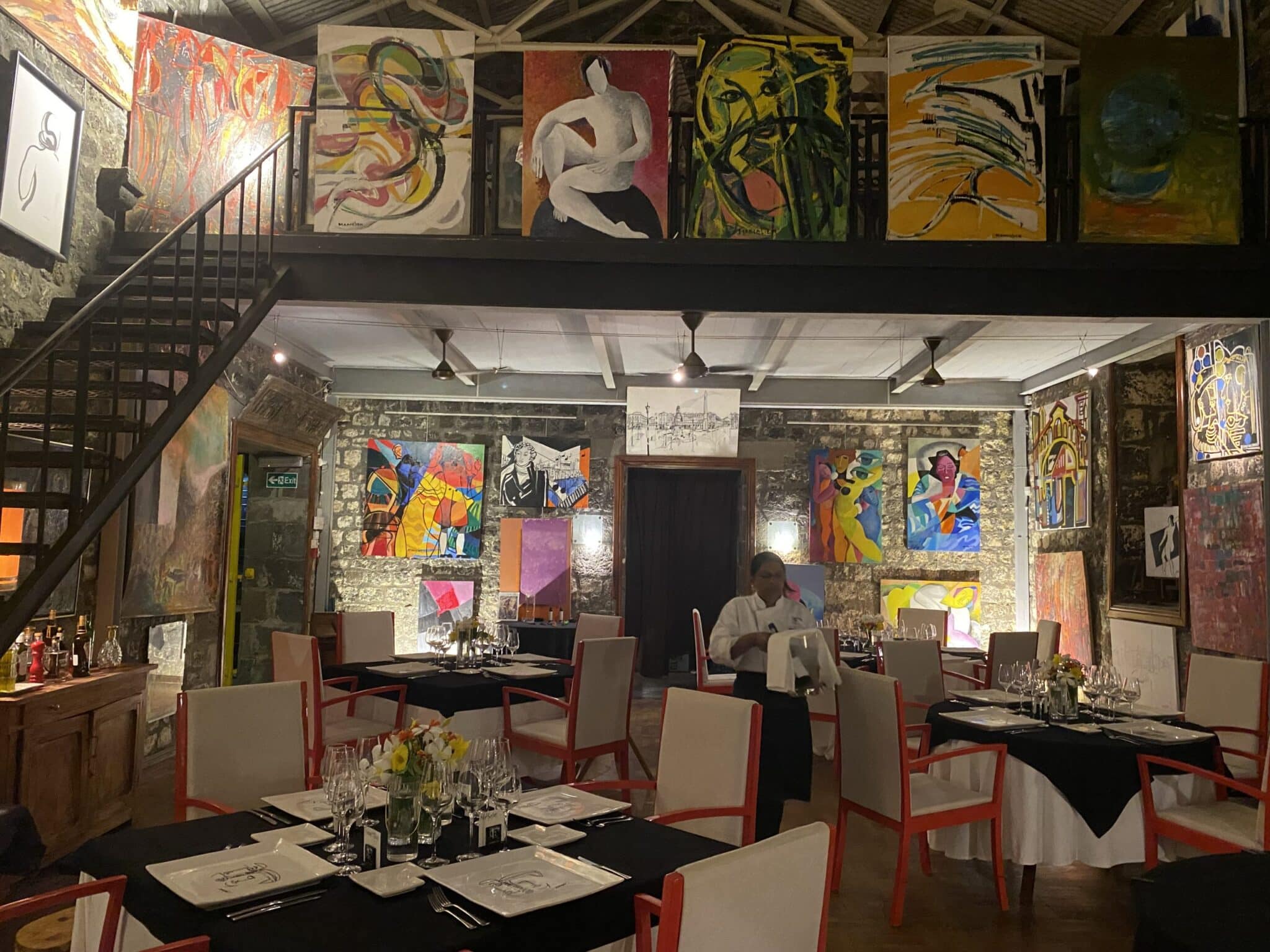 We take a seat at a beautifully laid table, a vase overflowing with bougainvillea and frangipani. I discover a small white card on which my first name is written with a pen. This is where I belong.
On the black tablecloth are large square white plates, with a Picasso-style drawing by Maniglier. The contrast is superb. All the ceramic dishes were designed by Jocelyn and made by Mauritian craftsmen.
The brigade is in tune with the tempo of the guests. A team of nine people in total.
The braised palm heart with hollandaise sauce crunches under the tongue. Special mention for the grilled lobster flavoured with vanilla and basil with a peanut and pepper squash mousse. I opt for the filet of bourgeois and its combava emulsion. The crêpes Suzette flambéed with old rum are my favourite over the caramelised granny apple crumble.
"I only serve fresh and noble products that I buy at the market or from my small local producers. My cooking is light; I try above all to harmonise flavours, colours and scents", comments Jocelyn, a sixty-year-old with the figure of a young man. Every day, the entrepreneur gets up with the sun for a walk on the beach of Roches Noires in the company of his Labrador and his Jack Russell.
A few trumpet notes at the end of the dinner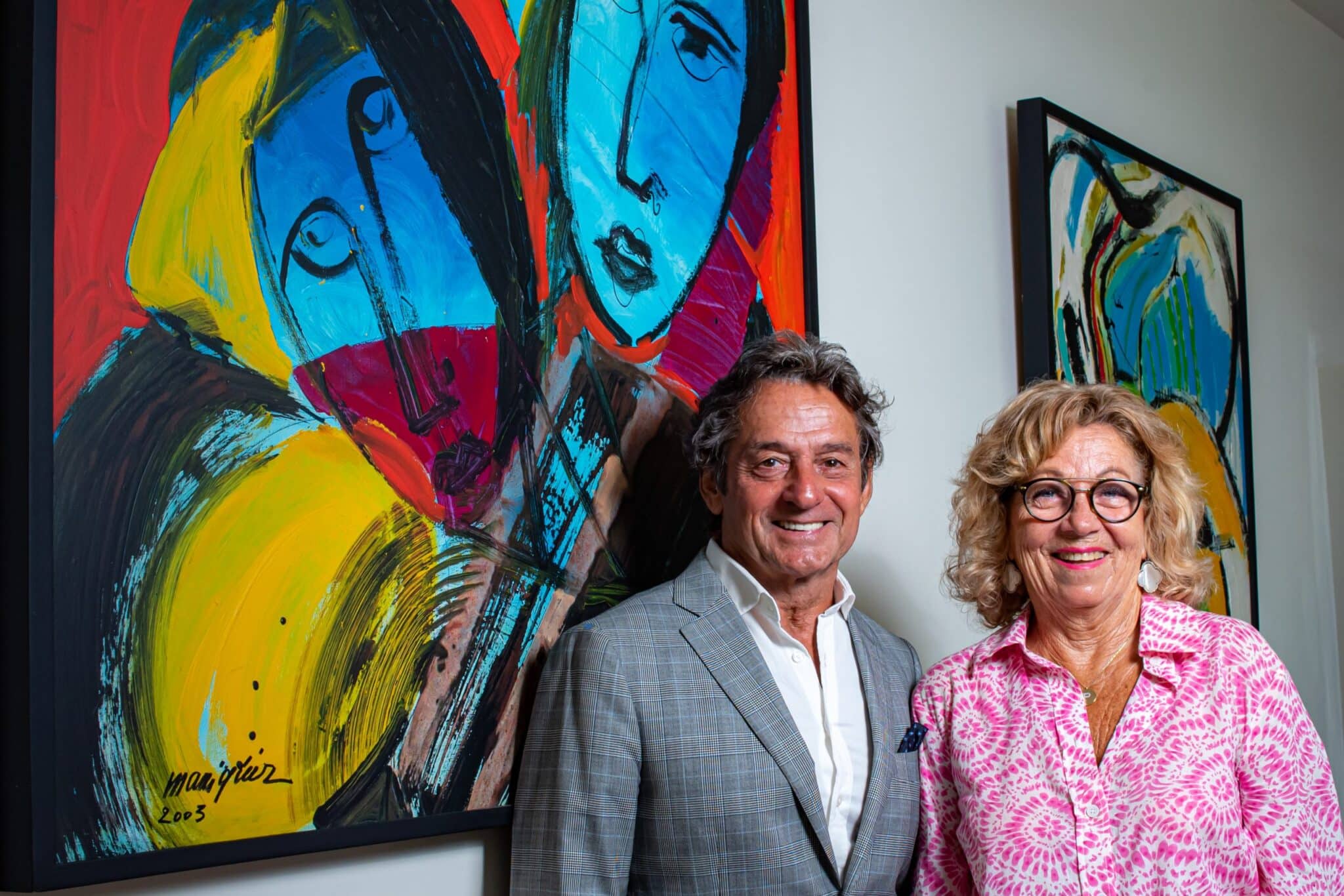 Celebrities such as Michèle Laroque, Dany Boon, Romain Duris, Nicolas Bedos, but also sportsmen and women and company directors like to frequent this exotic hideaway. A confidential address that works by word of mouth. "There are no privileged people here. Everyone pays the bill", underlines Jocelyn who has organised about a hundred events since the opening of the CAFE DES ARTS … up to 385 people during a private evening.
CAFE DES ARTS envelops us in its warm atmosphere which would not exist without the personality of Jocelyn and Patricia… the wife in the background, but also the key to the success of the establishment.
A few exceptional spirits are on the table. It is already 1am. My friends are totally seduced: "This is an exceptional place in Mauritius!
Aesthetes love this restaurant-art gallery which has no equivalent in the world. The place is unique, magical. Jocelyn graces us with a few trumpet notes at the end of dinner. A rare moment. O time suspend your flight.
Practical information :
CAFE DES ARTS MAURITIUS-FONDATION MANIGLIER
Victoria 1840, Trou d'Eau Douce, Flacq
Restaurant only in the evening by reservation at (+230) 54210977
Read also > THE ROYAL HAINAUT VALENCIENNES WORTHY OF RECEIVING CHARLES III
Featured photo : View of the Lounge of the CAFE DES ARTS MAURITIUS / © Corine Moriou
Corine Moriou
[EN] After working as an investment banker at Crédit Lyonnais, Corine Moriou turned to journalism at the L'Express group. The job she dreamed of at 18! As a reporter for L'Entreprise/L'Express for 15 years, she conducted interviews in the four corners of the world. 70 countries visited, 5,000 people interviewed, 10,000 smiles and laughs shared, 100 pairs of shoes worn. Today, she works as a freelancer. Her favorite subjects are culture, lifestyle, well-being and travel. Each encounter is a journey. Never blasé, always ready! ************** [FR] Après avoir été banquière d'affaires au Crédit Lyonnais, Corine Moriou a obliqué vers le métier de journaliste au sein du groupe L'Express. Le métier dont elle rêvait à 18 ans ! Grand Reporter pour L'Entreprise/L'Express pendant 15 ans, elle a fait des interviews aux quatre coins du monde. 70 pays visités, 5 000 personnes interviewées, 10 000 sourires et rires partagés, 100 paires de chaussures usées. Aujourd'hui, elle exerce son métier en free lance. Ses sujets de prédilection sont la culture, l'art de vivre, le bien-être, les voyages. Chaque rencontre est un voyage. Jamais blasée, toujours prête!